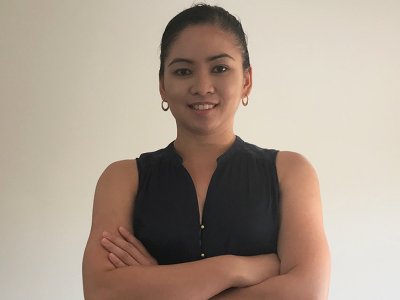 Dr Joyce Ramos from the UQ School of Human Movement and Nutrition Sciences is the 2016 recipient of the prestigious ESSA Medal.
The ESSA Medal is awarded annually by Exercise & Sports Science Australia (ESSA) to the most outstanding PhD thesis approved for graduation in the field of Exercise and Sports Science.
Dr Ramos' research is set to have significant impact on exercise as a treatment for people with metabolic syndrome (MetS).
"MetS is a combination of obesity with a specific risk factor, such as raised triglycerides, reduced HDL cholesterol, raised blood pressure, or raised fasting plasma glucose," Dr Ramos said.
"In our previous research we found that cardiorespiratory fitness may be more important than fat loss for people suffering from MetS, but many people cited 'lack of time' as their main reason given for not adhering to an exercise schedule. 
"The development of a low-volume form of high-intensity interval training (HIIT), which requires less than half the time-commitment of a higher volume HIIT, has been effective in improving cardiorespiratory fitness.
"As little as four minutes of high-intensity exercise performed three times a week for 16 weeks is sufficient to reduce MetS severity."
Professor Jeff Coombes of the UQ School of Human Movement and Nutrition Sciences said Dr Ramos' research will allow health professionals to better target treatment of MetS.
"Dr Ramos' findings will likely lead to an inclusion of HIIT in exercise guidelines for people with this condition," Professor Coombes said.
"The School is extremely proud to have several RhD students of Dr Ramos' calibre and looks forward to more exciting research outcomes in the future."
Dr Ramos will receive the 2016 ESSA Medal at the 2017 ESSA Business Forum in Canberra on Saturday 6 May.
Media: Dr Joyce Ramos, mary.ramos@uq.net.au, +61 435 042 505; UQ Communications, Dani Nash, dani.nash@uq.edu.au, +61 7 3346 3035.