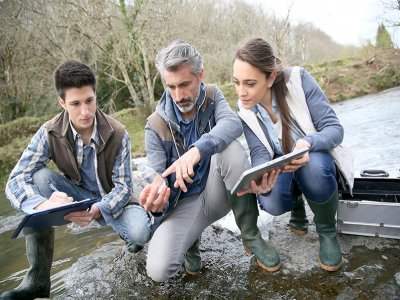 The risks of chemical contamination in air, food and water will be in the spotlight at the Queensland Alliance for Environmental Health Sciences, launched at the University of Queensland today.
The centre, jointly funded by Queensland Health and UQ, replaces the National Research Centre for Environmental Toxicology (Entox).
Centre Director Professor Kevin Thomas said it drew together experts who had dedicated their careers to quantifying and combatting potential threats to the environment and human health.
"Quantifying our exposure to chemical contaminants from air, food and water, and the risks that they pose to our health, are examples of the work we conduct.
"The centre has already led the first of nine National Wastewater Drug Monitoring Program reports, released by the Australian Criminal Intelligence Commission in a bid to combat illicit drugs."
Centre research will concentrate on seven related environmental health science themes: toxicology, emerging risks, risk assessment, microbiology, epidemiology, risk communication, and education and professional development.
Faculty of Health and Behavioural Sciences Executive Dean Bruce Abernethy said the centre would ensure UQ continued to play a leading role in environmental health risk assessment and toxicology.
"I'm particularly delighted at this news, which expands the scope of the exciting and meaningful work we already undertake in this area," Professor Abernethy said.
"We live in a time where achieving sustainable and healthy environments, coupled with the protection of human health, provides significant challenges.
"This new body has the potential to serve as a platform for the eventual creation of a national research and education program for environmental health sciences, as exists in other countries."
Member for Bulimba Ms Di Farmer, who represented Minister for Health and Ambulance Services Mr Cameron Dick at the launch, said the State Government was keen to support research that assisted better environmental risk assessment.
"We are a government which seeks to balance out development which creates jobs and environmental concerns, and institutions such as this one will help us in that goal," she said.
"This collaboration between the University of Queensland and Queensland Health reflects the increasing importance the Palaszczuk Government places on ensuring its policy and advice reflects the best available science."
The centre is housed in the UQ Faculty of Health and Behavioural Sciences, and involves researchers from the Faculty of Engineering, Architecture and Information Technology, the Faculty of Medicine, the Faculty of Humanities and Social Sciences, and the Institute for Social Science Research.
Media: UQ Communications, Dani Nash, dani.nash@uq.edu.au, +61 7 3346 3035