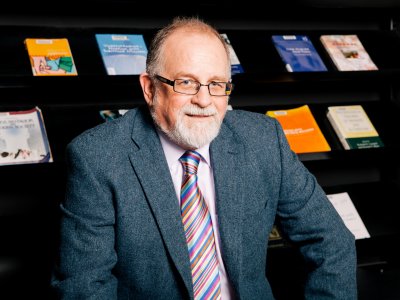 After being strongly discouraged from changing research pathways 30 years ago, one of Australia's – and the world's - most highly cited social scientists has been honoured by the UK Society for the Study of Addiction.
Professor Wayne Hall from The University of Queensland's Centre for Youth Substance Abuse Research (CYSAR) first made the move from teaching medical students to researching addiction three decades ago.
"There was very limited academic interest in the addictions field in Australia among psychiatrists at that time," Professor Hall said. 
"It was seen by some of my colleagues as the end of my career and a really dumb thing to be doing."
In a video interview published to honour Professor Hall, Director of the Society for the Study of Addiction (SSA), Professor John Stang said: "I think many of us are really pleased you did that dumb thing of moving into the field."
The career accolades Professor Hall has achieved over the past 30 years in the fields of addiction, mental health and public health have been significant and exceptional.
Some of the momentous career highlights Professor Hall makes note of include providing advice on addiction research and policy to the Australian government, the World Health Organization (WHO), the World Bank and the United Nations.
"What started out as a request by the Australian Government for a quick and dirty review on the adverse health effects of cannabis turned into a 100,000 word monograph and it's a topic which I've been dragged back to," Professor Hall said.
"Because of it I was invited to speak at a conference on cannabis in New Zealand in 1993 and this led to an invitation to participate in a World Health Organization update of a 1983 report on the health effects of cannabis.
"I was later invited to write a review for the Lancet and since then I have received regular invitations to speak or write on this topic, as well as an invitation to participate in the most recent WHO update about the adverse health effects of cannabis."
In Australia the impact Professor Hall has had on addiction policy was recognised when he was appointed to the Australian Advisory Council on the Medicinal Use of Cannabis, and advised the State Government on the Queensland trials of cannabis for intractable epilepsy in children.
He also recently gave evidence to the Queensland Parliamentary Committee on ways to reduce alcohol-related violence in Queensland.
Since 2012 Professor Hall has published over 250 papers, book chapters, editorials, commentaries and other works and has given over 80 invited presentations and lectures to leading conferences and research groups in the USA, UK, Canada, Europe, Singapore and New Zealand.
In 2009 he was awarded an NHMRC Australia Fellowship to critically examine applications of neurobiological research on addiction, and present analyses to inform public policy debates about the applications.
Professor Hall is a Professor at CYSAR where he recently served as Inaugural Director (2014-16).
Faculty of Health and Behavioural Sciences Professor Bruce Abernethy congratulated Professor Hall on the well-earned honour by the SSA.
"Wayne is an inspiration to his students, colleagues and collaborators," Professor Abernethy said.
"We are extremely fortunate to have such an esteemed researcher and leader as one of our colleagues at UQ.
"The contributions Professor Hall has made not only in Australia, but internationally to the field of addictions is remarkable."
For young researchers looking to emulate Professor Hall's success his advice is "to share your research with a broader audience than one's peers by learning how to write in an accessible way".
"I have also found it useful to read widely, especially in adjacent fields, in search of new ideas and research methods and, in entering new fields, I have found it is essential to collaborate with people who know a lot more about the field than I do," he said.
The video interview was published on the SSA website.
Media: Wayne Hall, w.hall@uq.edu.au, +61 7 33655246; Kirsten O'Leary, UQ Communications, k.oleary@uq.edu.au, +61 73365 7436