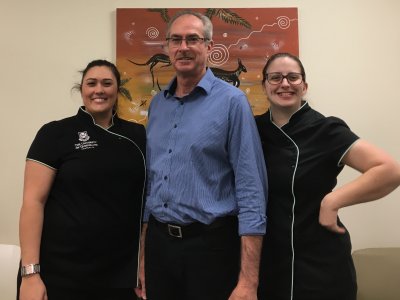 What inspired two former presidents of the Australian Dental Association Queensland Branch (ADAQ) to take up leadership positions in rural dental clinics?
For University of Queensland alumnus Dr Derek Lewis, the Supervising Dentist Team Leader at UQ's St George Dental Clinic, it was to encourage students to experience the joys of rural practice, as he did throughout his career.  
"When I graduated, I was very much the 'wet behind the ears' city boy," Dr Lewis said.
"Working for Queensland Health, I was appointed in Cloncurry as 'Dentist in Charge' and was the only dentist in the Cloncurry and Julia Creek clinics.
"Following that, I spent 18 months at the Collinsville Dental Clinic where I thoroughly enjoyed the exposure to rural and remote practice and very quickly became involved in the local community.
"Whilst I had found a passion for working in rural communities, it was when I was President of the ADAQ in 1999 that I was enlightened to the problem of access to dental services away from the major coastal centres."
Following Derek's 35 plus years as a practising dentist working in both private and public practices in city and rural areas, he is looking forward to instilling in students some of the worldly wisdom he accumulated along the way.
"Encouraging more dentists to 'The Bush' is a very important health service I can assist with, as well as provide the students with a successful career choice."
For UQ alumnus Dr Ralph Kelsey, the Supervising Dentist Team Leader at UQ's Dalby Dental Clinic, it was having an educational role within the University he graduated from and working in a town he had a family connection with that drew him back.
"My mother was raised on a property north of Roma where my siblings and I worked for most of our school holidays, so I am quite familiar with the challenges and satisfaction of living and working in a rural environment," Dr Kelsey said.
"Whilst ADAQ President I was made aware of the significant challenges that dentists working in rural and remote areas faced, such as specialist referrals, dental laboratories, equipment maintenance, staff and mentorship.
"In this role I hope to be able to impart the skills and knowledge I gained after almost 35 years in clinical practice to the dental students."
As the Dalby Dental Clinic is based within the Goondir Health Services, there is a high proportion of Indigenous patients from the Goondir Community. 
"Students find that there are many health challenges being experienced by the patients which impact the delivery of care and the structure of comprehensive treatment plans," Dr Kelsey said.
"They are finding the Goondir patients very pleasant to care for and very appreciative of the service provided by the students. 
"It is very satisfying being able to support the University and students in this location."
UQ School of Dentistry Head of School Professor Pauline Ford said the School was extremely fortunate to benefit from the extensive knowledge and experience of Dr Lewis and Dr Kelsey.
"Their experience in both private practice and hospital clinics in city, regional and rural areas provides an excellent basis for future dental practitioners to learn from, and to encourage students to return to the bush after graduation."
Both clinics are operated in partnership with UQ's School of Dentistry and Goondir Health Services, supported by the Commonwealth Government's Dental Training Expanding Rural Placements (DTERP) Program and Rural Health and Medical Training (RHMT) Fund.
Media: Kirsten O'Leary, UQ Communications, kirsten.oleary@uq.edu.au, +61 73365 7436