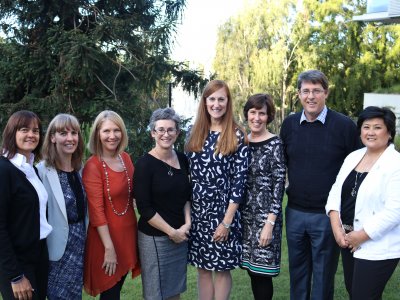 International experts from the University of Toronto armed UQ academic staff and clinical partners with valuable knowledge on how to develop interprofessional learning at a workshop held at the St Lucia Campus.
Faculty of Health and Behavioural Sciences Associate Dean (Academic) Professor Sarah Roberts-Thomson said the first of the two workshops titled 'Advancing the Future of Healthcare Through Interprofessional Learning' was applauded by attendees.

"The feedback we have had from attendees has been outstanding," Professor Roberts-Thomson said.

"Attendees have commented on what an exciting opportunity it was to learn from international experts on how to develop rich interprofessional learning for our students.

"The experts provided many useful strategies we could use as health professionals working in interprofessional environments to break down logistical barriers we often encounter."

The University of Toronto, Centre for Interprofesional Education has a strong history of expertise in interprofessional learning and collaboration principles and practices to support leadership and curriculum development.

The centre's intensive course 'Advancing the Future of Healthcare Through Interprofessional Learning' is recognised internationally.

"Collaborative person-centred care is recognised by the World Health Organization as an important strategy to provide better health outcomes for people," Professor Roberts-Thomson said.

"Embedding in our students an appreciation of the value of collaborative or interprofessional care is fundamental to educating the next generation of health leaders.

"This is the reason we engaged The University of Toronto experts to facilitate workshops with our academic staff and clinical partners."

The second workshop is in Toowoomba this week, hosted by the newly formed University Department of Rural Health (UDRH), a collaborative venture between UQ, The University of Southern Queensland, Darling Downs and South West Hospital and Health Services.

The UDRH is funded by the federal government to enhance the capacity to provide students with rural experiences as part of their health programs.
Media: UQ Communications Kirsten O'Leary, kirsten.oleary@uq.edu.au, +61 7 3365 7436.