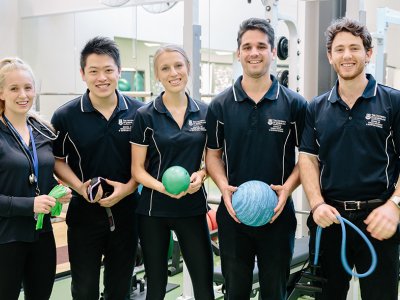 The University of Queensland's School of Human Movement and Nutrition Sciences has ranked among the best in the world for sport science for the second year in a row.
The School ranked 5th globally and 2nd in Australia in the ShanghaiRanking's Global Ranking of Sport Science Schools and Departments 2017.
The ranking assessed key areas of research performance, including the number of papers published in top sport science journals and the number of citations of articles.
Head of the School of Human Movement and Nutrition Sciences Professor Andrew Cresswell said the accolade was a reflection of UQ's dedication to being an international leader in exercise and sport science research and education.
"We take an interdisciplinary approach to research which is critical to allow effective translation of knowledge into practice," Professor Cresswell said.
"Our research is diverse and focuses on addressing multi-dimensional questions related to how and why humans move and obtain nutrition.
"We focus on areas critical to health and disease prevention across the lifespan - including exercise, physical activity and health, dietetics and nutrition, sensorimotor neuroscience, sport, physical and health education."
Professor Cresswell said the school's performance was led by outstanding teaching and research staff, and work being undertaken in the research centres.
 "Our strong commitment to excellence in teaching and research is paramount to our success, and permeates everything we do," Professor Cresswell said.
"We aspire to be at the forefront of learning and strive to ensure students meet the needs of the sport science industry, are job-ready, and equipped with the skills and knowledge to succeed in their chosen careers.
"To be rated among the very best in the world is a huge accolade."