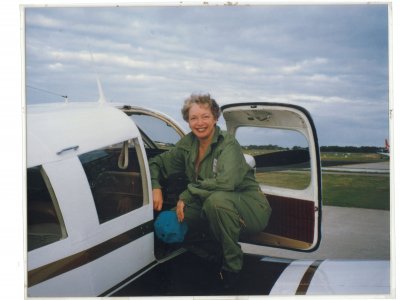 More than 50 years after graduating, Dr Heather Parker recalls her journey from The University of Queensland to outback towns, Canada, and the skies.
"I graduated with a Diploma in Speech Therapy in 1965," Dr Parker said.
"We travelled to Melbourne in our final year for practical assessments – it was the first time I had been away from home, and the first time I had been on an aeroplane.
"A fellow speech therapy student and I were 'cigarette girls' at a Medical School Ball where we dressed in fishnet stockings and high heels to sell trays of cigarettes to medical students – how times have changed!"
After graduation, Dr Parker relocated to Townsville where she worked as a speech therapist at Cootharinga Home for Crippled Children, Bush Children's Home and Endeavour Home, as well as working at Townsville General Hospital.
"I also acted as an audiologist. I conducted hearing tests, identified children who needed a hearing aid, created a mould of their ear using dental material, and then sent the moulds to a company in Brisbane who manufactured the hearing aids," Dr Parker said.
"I was the only speech therapist for 1000 miles."
In 1967 Dr Parker emigrated to Canada where she worked in the Child Guidance Clinic, the Manitoba Home for Crippled Children, and a Repatriation Hospital, studied part-time for a Bachelor of Arts, and then completed a medicine degree at the University of Manitoba.
During her studies, Dr Parker took a trial introductory flight in sub-zero temperatures and realised that she wanted her career to encompass both her love for medicine and her new love of flying.
As a medical student, Dr Parker completed an elective term with the Royal Flying Doctor Service, flying out of Cairns airport.
Dr Parker spent five years in Canada working in the emergency department and as a GP, before she returned to Australia in 1984.
Dr Parker achieved her pilot's licence in 1992 at Caloundra airport and began flying herself out west once per month to conduct women's clinics.
Dr Parker returned to UQ in 2001 to complete a post-graduate diploma in Medical Journalism.
She went on to receive an OAM for her services to aviation and medicine.
Dr Parker currently resides on the Sunshine Coast where she conducts pilot medical assessments.