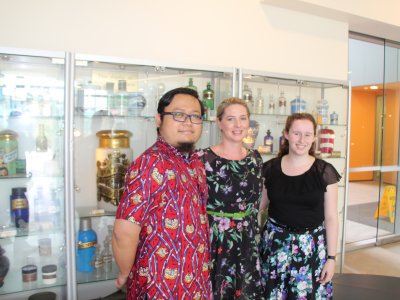 The risks of hormone therapy when compared to complementary and alternative medicines in menopausal Australian women will be the focus of a new study, thanks to funding from Health World Limited.
The University of Queensland's School of Pharmacy is celebrating the second of a five year philanthropic partnership with Health World Limited.
Health World, a market-leading supplier of natural medicines in Australia and New Zealand, will donate $10,000 per year until 2020 to deliver Health World Student Research Scholarships.
These scholarships support two research projects each year, chosen by a selection panel which includes a representative from Health World.
This year's scholarship recipients are Mr Rifani Bhakti Natari, a PhD student, and Ms Reearna Janke, an undergraduate student.
"I am exploring women's health during the menopause transition," Mr Bhakti said.
"Approximately one in six middle-aged women experience bothersome menopausal symptoms which can reduce their quality of life.
"Our research focuses on the health risks of certain treatments such as hormone therapy when compared to complementary and alternative medicines."
Ms Janke is working with proteins that translate signals within the body, and how those signals are read within cells.
"I work with a particular type of protein that has been found to be instrumental in the development of various diseases such as heart failure, peripheral arterial disease, and atherosclerosis," Ms Janke said.
"Further research into the function of this protein has been limited due to a lack of available inhibitors, but the Health World donation has allowed us to purchase additional compounds for testing in the hope that we can find a molecule that will stop the action of the protein."
UQ School of Pharmacy Head of School Professor Peter Little AM said that the Health World research scholarships are an invaluable contribution to pharmacy research and provide students with the resources they need to give their research the edge.
"Our partnership with Health World enables students to take their work to the next level and explore avenues that may not otherwise be accessible to them," Professor Little said.
"It is crucial to be able to collaborate with and draw on the expertise of industry organisations such as Health World, and it is great that they can see first-hand the impact their support has on pharmacy research and innovation at UQ".
Media: Jo Hickman, UQ Communications, jo.hickman@uq.edu.au, +61 7 3346 3037.