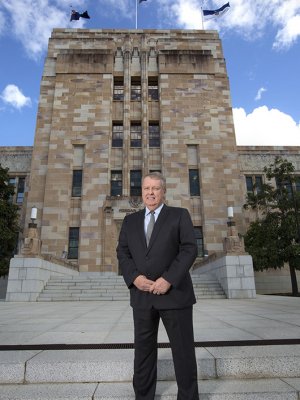 Policy makers, practitioners and researchers can now draw on parenting interventions that have changed the lives of millions of families across the globe in a single reference - The Power of Positive Parenting.
University of Queensland Triple P  ̶  Positive Parenting Program founder Professor Matt Sanders said the book addressed every aspect of the program and its application to child and parent problems across age groups and cultural backgrounds.
"It details how we have taken the original program that looked at improving child behaviour to further develop interventions capable of improving health on a global scale," Professor Sanders said.
"We know parenting is critical for children's positive development, including their mental health, but what we are excited about revealing is the impact parenting can have on how well a community functions.
"The book explores how we can create more sustainable and healthier communities that are kinder to the environment, encourage increased economic prosperity and more even income distribution and help keep our children safe with the power of positive parenting."
Backed by more than 30 years of ongoing research, Triple P is a system of programs based on social learning theory and the principles of behaviour and cognitive and affective change.
Professor Sanders said the overall aim of the program was to create change at a community level and promote positive child development by enhancing the knowledge, skills and confidence of all parents, regardless of the age of their children, cultural background or level of need.
Pam Howlett and her son Riley, who was diagnosed with autism at age two and a half, enrolled in the Triple P Stepping Stones Program when he was three.
Ms Howlett said the strategies she learned significantly improved life for her and her son, who is now eight years old.
"I discovered I was doing a lot to keep the peace for a few minutes, however I didn't realise I was creating long-term problems," Ms Howlett said.  
"I learnt how to reward his good behaviour with a hug or a tickle rather than a treat, and to better communicate with him by asking him to repeat words I was using when asking him to do something.
"Before the program I was an emotional wreck, my stress levels were through the roof and I was frightened for the future.
"However, since participating in the program, I am blown away with the strength and resilience I now have.''
Professor Sanders said the aim of the book was to inform policy makers of the potential influence of families and of the enormous amount of work around the world developing and evaluating Triple P.
The book also aims to support researchers and Triple P practitioners by providing a well of knowledge about the program and its research.
Triple P programs have been made available in 28 countries in 22 languages.
The Power of Positive Parenting', published by Oxford University Press, will be launched on at 6pm Wednesday 7 February in the ViewPoint room at UQ's St Lucia Campus.