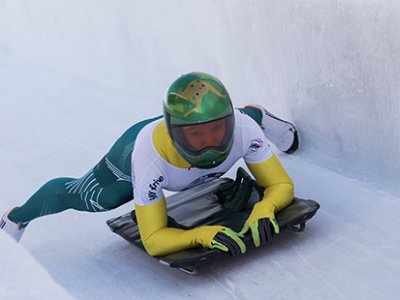 University of Queensland alumni Pita Taufatofua and Jaclyn Narracott will compete this week at the 2018 Winter Olympics in PyeongChang, South Korea.
Pita Taufatofua, who made worldwide headlines as Tonga's flagbearer at the 2016 Rio Olympics, will contest Cross-country Skiing following a well-publicised switch from Taekwondo.
The Bachelor of Engineering graduate began skiing in January 2017, and practised on roller blades before moving onto snow.
"After Rio I decided to find the hardest sport possible because I needed a new challenge," Pita told Olympic Channel.
"I have had probably about 10 weeks on snow because there's no snow from where I'm from in Tonga, so we've had to use roller skis and they're the worst things ever made."
The 34-year-old qualified for PyeongChang at his seventh, and final, attempt in Iceland.
Pita is the first Tongan athlete to compete at both a Summer and Winter Olympics.
"People don't see the hard work that goes on, they just see the shiny guy that walks with the flag," Pita said.
"But so much hard work was put in, not just me, but the whole team, a whole country, everyone that supported us and we made it."
Pita Taufatofua will compete in the men's 15km freestyle event on Friday 16 February.
Jaclyn Narracott, a Bachelor of Exercise and Sport Science graduate, is Australia's only competitor in the women's Skeleton, on Friday 16 and Saturday 17 February.
Formally a 100-metre and 200-metre sprinter, the 26-year-old took up the sport in 2012.
She made her Skeleton World Cup debut in 2014, and achieved a best place finish of seventh at the 2016 Lake Placid event.
Last month, Jaclyn achieved her best result in two years, finishing seventh at the St Moritz World Cup.
"It's hard to put into words exactly what selection means," Jaclyn told olympics.com.au.
"I've had this dream since I was nine years old so achieving it is both surreal and hugely exciting!"
Jaclyn follows her uncle Paul Narracott – a 1984 UQ Blue recipient for Athletics – as an Olympian.
Paul was the first Australian to compete at both a Summer (Athletics – 1984 Los Angeles) and Winter Games (Bobsleigh – 1998 Calgary).
"It's very special given our history. To be the next generation to follow in his footsteps is amazing," Jaclyn said.
Jaclyn finished 15th at the PyeongChang Olympic Test Event in March 2017, and is targeting a top 10 result on her return to the venue.
"From a process point of view, it's all about staying composed and executing," Jaclyn said.
"If I can walk away from the Games knowing that I stayed composed and executed each run to the best of my abilities, then I'll be happy."