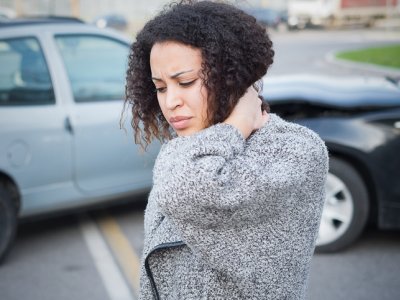 Researchers are working to develop a combined physiotherapy and psychology treatment program for people with chronic whiplash.
Professor Michele Sterling of The University of Queensland's RECOVER Injury Research Centre said her team was keen to hear from people still experiencing neck pain from a whiplash injury following a motor vehicle accident within the last 10 years.
"Almost half of the people who experience a whiplash injury from a road traffic crash will never fully recover," Professor Sterling said.
"The reason why symptoms persist and often become worse is unclear but seems to result from a complex interaction between structural injury, physical impairments and psychological factors.
"We are testing a combined psychological therapy and physiotherapy exercise to treat the psychological symptoms along with the pain and disability."
Study participants will receive 10 weeks free psychological treatment and six weeks free physiotherapy.
A pilot study has shown promising results for the use of trauma-focused psychological therapy for people with chronic whiplash.
"Psychological responses related to a traumatic event such as a car accident are becoming an increasingly recognised factor in whiplash," Professor Sterling said.
"The early presence of post-traumatic stress symptoms are associated with poor recovery from injury.
"Despite this, there is limited knowledge about the effectiveness of psychological interventions, either alone or in combination with physiotherapy, in reducing the physical and pain-related psychological factors of chronic whiplash.
"Our aim is to combine trauma-focused cognitive behavioural therapy, delivered by a psychologist, and physiotherapy exercise to decrease pain and disability of individuals with chronic whiplash and post-traumatic stress symptoms, anxiety and depression."
To be eligible, participants aged 18-70 need to have neck pain from a whiplash injury sustained from a motor vehicle accident within the last 10 years, with no confirmed fractures or dislocations at the time of the injury.
If you fit the criteria and would like to be involved in this study, please contact Sarah Robins on +61 7 3346 4812, 0436 391 158 or whiplashresearch@uq.edu.au.