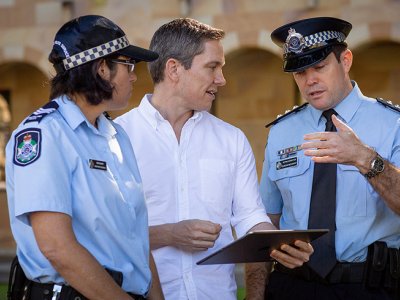 A group of universities and law enforcement agencies has received a funding boost from the Australian Government to train the next generation of forensic experts.
The University of Queensland led team is working to improve how policing and national security agencies interpret crime scene evidence.
Associate Professor Jason Tangen of the UQ School of Psychology said the project aimed to turn novices into experts more rapidly.
"Policing agencies are under pressure to develop more rigorous training practices that go beyond mere intuition and tradition," Dr Tangen said.
"We're developing expertise by drawing on the cognitive and learning sciences, the field of medical education, forensics, and law.
"Working together, we will develop national training programs to produce experts that are accurate, reliable, and continuously improving."
Contrary to popular belief and TV shows, forensic comparisons (such as fingerprint analyses) are done by humans, not computers.
However, very little research has been conducted on how well these examiners perform and how best to train them.
The team has spent the last eight years testing fingerprint examiners and demonstrating that expertise in forensic identification is characteristically fast and accurate.
This research will now be used to design training tools and programs for every major police agency in Australia.
"This multi-agency collaboration could lead to more reliable courtroom convictions and help prevent miscarriages of justice," Dr Tangen said.
"Maintaining high standards of forensic decision-making is vital for ensuring that innocent people are not wrongfully convicted, and it will help safeguard Australia from terrorism and crime."
Sergeant Duncan McCarthy of the Queensland Police Service Forensic Services Branch said the team had established best practices that had become the international benchmark for forensic science.
"We have already made excellent progress in advancing the state of forensic science research, and I'm looking forward to working together to optimise our training procedures," Sergeant McCarthy said.
"Our collaboration will allow us to develop and test a suite of training methods to help strengthen and accelerate our current training programs."
The project has received $364,188 funding through the Australian Research Council (ARC) Linkage Projects scheme. 
Along with cash and in-kind funding from UQ, and university and industry partners, the total funding is more than $1.3 million.
The industry partners in the project are the Australian Federal Police, Queensland Police Service, Victoria Police, NSW Police Force, WA Police Force, and the Australia New Zealand Policing Advisory Agency National Institute of Forensic Science.
University partners are The University of Melbourne, Murdoch University, The University of New South Wales, and The University of British Columbia, Canada.
The University of Queensland received a total of 12 grants in the latest ARC Linkage Projects announcement.