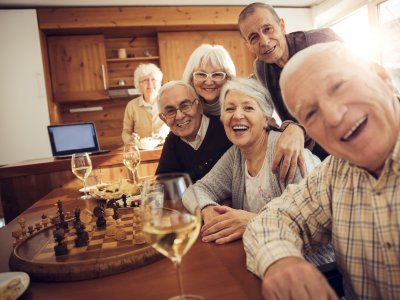 Maintaining an active and healthy lifestyle, cultivating social connections and enhancing mental health will be the focus of the 2018 Positive Ageing Journey event.
Community leaders, clinical practitioners and academics will present on a range of wellness topics aimed at people aged 65 years and older at The University of Queensland's St Lucia campus on Saturday 14 July.
Event co-director, Dr Anthony Tuckett from UQ's School of Nursing, Midwifery and Social Work said the presentations and expo are designed to educate people on how to lead a healthier and happier lifestyle.
"This year we are very excited to have the charismatic and much-loved Chef Alastair McLeod headlining the event to share his expert knowledge on food and wine," Dr Tuckett said.
"We have presentations on many thought-provoking and educational topics including poetry, pets for older adults and music therapy."
A number of businesses, services and organisations will have stalls set up with people on hand to answer questions and provide information to take away.
One of the main components of the event is the opportunity for older people to network and socialise with others.
"As the research suggests maintaining social connections is extremely important as people age to ensure positive long term health outcomes," Dr Tuckett said.
"The program has been developed to encourage attendees to make new social ties that can later provide social, emotional and practical support.
"I will be speaking about what citizen science is all about, how people can be involved and findings from some of my latest research."
Cost is $20 per person which includes morning tea and lunch.
The 2018 Positive Ageing Journey event is being held at The Holt Room on UQ's St Lucia campus on Saturday 14 July from 8.30am- 3.00pm.
The full program can be downloaded from the Positive Ageing Journey event webpage.
Media: UQ HaBS Communications, habs.media@uq.edu.au, @UQhealth