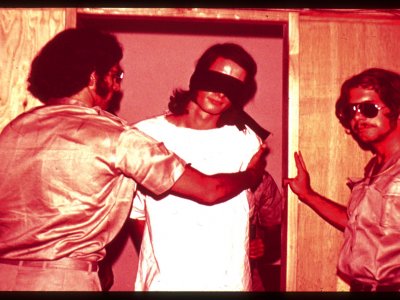 A classic psychological study that suggests people will behave brutally when the situation demands it, has been challenged by a University of Queensland researcher.
In 1971, a group of college students were cast in the roles of prisoners and guards in a simulated prison created in the basement of Stanford University.
The two-week experiment was cut short after six days when guards became cruel and controlling and prisoners were distressed.
The Stanford Prison Experiment (SPE) has been taught in psychology classrooms around the world ever since, as evidence of the power of social roles to bring out the worst in people.
Professor Alex Haslam of the UQ School of Psychology said recently digitised audio and video tapes from the experiment call into question the original conclusions about the study.
"The researchers in the Stanford Prison Experiment claim that it shows people's willingness to oppress others by simply putting on a prison guard uniform," Professor Haslam said.
"The new evidence shows that some guards actually resisted these roles and then were cajoled by the experimenters into enacting them.
"The experimenters actually engaged in 'identity leadership' in which they encouraged the guards to engage in toxic behaviour by trying to persuade them that this was necessary for the achievement of worthy group goals."
Along with being a staple in psychology textbooks, the SPE has been made into a major film, and used as legal defence of human rights violations against detainees in Iraq's Abu Ghraib prison.
The publication of the tapes has caused controversy, not least on Twitter, with many calling for the SPE to be to be removed from textbooks and psychology teachings.
Together with colleagues at the University of St Andrews and New York University, Professor Haslam sees the new interpretation of the SPE as an opportunity to improve scientific theory.
"It is clear that prevailing explanations of what went on in the Stanford Experiment are not only inadequate, but also fail to explain collective brutality in places like Abu Ghraib and Rwanda.
"By underlining the importance of interrelated processes of leadership and followership, our analysis not only helps understand what really went on in the Stanford study, but also gives us a better handle on the dynamics of tyranny in the world at large."
The review of the SPE, in collaboration with Professor Stephen Reicher of the University of St Andrews, Associate Professor Jay Van Bavel of New York University and Naomi Ranz-Schleifer, is available at PsyArXiv.