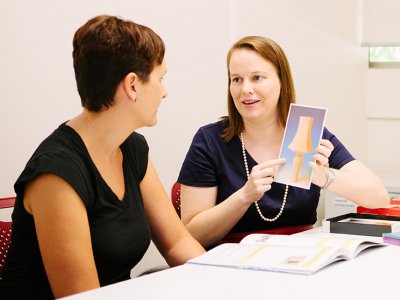 Speech Pathology Week (19-25 August 2018) is an awareness week facilitated by Speech Pathology Australia that promotes the speech pathology profession and the work done by speech pathologists with the more than 1.1 million Australians who have a communication or swallowing disorder that impacts on their daily life.
Here at The University of Queensland we have offered studies in speech pathology since 1962, and we have a Speech Pathology Clinic that is open to the public.
We spoke with Kelly Beak, the Clinic Manager and Clinical Educator for Speech Pathology within the School of Health and Rehabilitation Sciences to find out more about speech pathology and what the clinic offers.
What is speech pathology?
Speech pathology is the management of communication and/or swallowing difficulties as the result of problems with speech, language, voice, fluency (stuttering), hearing or literacy.
What do speech pathologists do?
We assist children and adults with communication issues, including delayed speech development, reading and spelling difficulties, stuttering, voice disorders and difficulties associated with stroke, head injury or Parkinson's disease. We also specialise in speech rehabilitation, language rehabilitation, fluency, voice and English as a second language (accent modification). Speech pathologists enjoy challenging and rewarding careers by working in a variety of settings, including hospitals, schools and community health centres, to deliver services such as individual therapy, group therapy, classroom support programs and home visits for clients and carers.
What services are on offer in the UQ Speech Pathology Clinic?
We support children who need assistance to develop their communication skills, and we work with people of any age who are experiencing communication difficulties in their everyday lives. Clients and their families work with our clinicians and students to promote positive change and enhance daily life skills in a supportive, confidential environment. We also run specialty programs and intensive clinics at different times throughout the year. Our paediatric clinics are currently fully booked, but we do have some availability in our adult clinics.
What adult clinics do you offer?
Aphasia Clinic: this clinic operates with individual and group sessions; this allows for individual goals and activities as well as group time to practice the strategies.
Accent Modification Clinic: this clinic aims to neutralise some of the aspects of an accent that make it significantly different from a native English speakers', such as pronunciation, emphasis and rate of speech.
Adult Speech and Language: we also have clinics which work with adults with language and/or speech difficulties after an acquired brain injury.
Fluency Clinic: helping people experiencing difficulty with communication skills due to a stutter.
What do the clinics cost?
Currently the adult clinics are $30 for initial appointments, and $20 for each appointment after that. There are no extra charges for generating reports, as these are included in the cost of the appointment. No referral is required to attend any of our clinics, and our friendly administration team can also provide clients with information regarding free parking on-site.
When do the clinics run?
The clinics operate at different times during the university semester. We also offer services such as one-on-one appointments or assessments, and intensive clinics during the holiday periods at UQ.
Where are the clinics?
The clinics are located in the Therapies Building on Slip Road at the UQ St Lucia campus [map]. However, we also offer the use of our state-of-the-art telehealth service for some of our clinics. This means you don't have to attend in person but can use our services from the comfort and convenience of your home or your office.
Find out more: