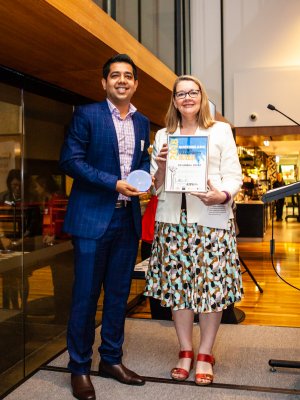 A Nanotechnologist from The University of Queensland's School of Pharmacy has been awarded a Queensland Young Tall Poppy Award for excellence in science.
The annual Young Tall Poppy Awards celebrate outstanding young scientists who demonstrate excellence in both research and science communication.
The six UQ winners were from a range of disciplines including antimicrobial resistance, nanomedicine, neuroscience and physics.
Among them was Dr Amirali Popat, a research pharmacist and Young Nanotechnology Ambassador who delights in taking science to the classroom and is working to deliver nanoparticle drug delivery systems to improve treatment of inflammatory bowel disease, diabetes and cancer.
"I am passionate about inspiring young Australians to explore the tantalising and fascinating possiblities that nanotechnology could offer, such as curing chronic disease and making everyday materials lighter than plastic but 10 times stronger than steel," Dr Popat said. 
"I believe that effectively communicating the potential impact of nanoscience in everyday life could drive our younger generations to become future scientists who can make a difference in our rapidly changing society.
"I am very excited to go on a journey with the many other talented Young Tall Poppies across Queensland and Australia to learn, inspire and create change."
Tall Poppy Award winners participate in education and community outreach programs in which they become role models to inspire school students and the broader community about the possibilities of science.