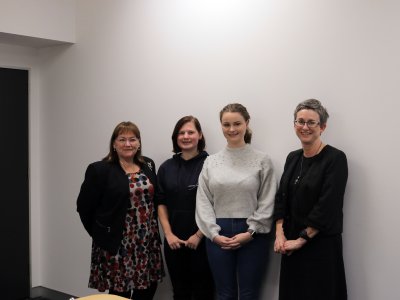 Students from The University of Queensland (UQ) have taken part in a two-week Summer School at Lund University in Sweden, learning how to take an inter-professional approach to health as an outcome of climate change.
Bachelor of Nursing student, Ms Stephanie Davidson, and Bachelor of Nursing and Midwifery student, Ms Tahlia Jasmine van Raders, were successful in their applications to the Universitas 21 Health Sciences Summer School, for which they both received a UQ scholarship to assist with their travel costs.
Combining several academic disciplines such as public health, medicine and rehabilitation, this year's Summer School focussed on cultural issues in the context of climate change and global health, and the need for a culturally competitive health workforce.
Ms Davidson said that the topic for this year's Summer School really resonated with her.
"I feel as though climate change is often seen as a wholly environmental issue but it's inevitable that changes in our environment can have detrimental impacts on our health as well", she said.
"I really wanted to learn more about this and so the topic of this year's program was a huge motivating factor when I completed my application,"
"Having the opportunity to work alongside and collaborate with other health students from different disciplines and countries was really exciting and has showed me how I can contribute to a team of professionals working together to promote better outcomes for patients".
Professor Sarah-Roberts Thomson, Associate Dean (Academic) from UQ's Faculty of Health and Behavioural Sciences said the Universitas 21 Summer School program is an invaluable experience for students.
"The Summer School is an annual two-week interdisciplinary program for undergraduate students studying health sciences, and provides a unique opportunity to learn in a culturally diverse environment whilst living and studying overseas".
For further details on the U21 Summer School program including announcements for 2019, you can visit their website.
Media: UQ Communications, habs.media@uq.edu.au, 07 3346 3037.