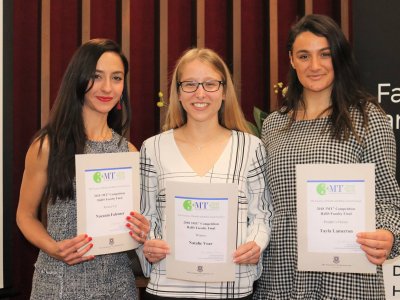 An 80,000 word PhD thesis would take nine hours to present, but students in the UQ Three Minute Thesis (3MT®) Competition present their thesis and its significance in dynamic and informative presentations of just three minutes in length.
PhD scholars from the Faculty of Health and Behavioural Sciences (HaBS) competed in the Faculty 3MT® Final on Thursday 9 August.
The winner was Natalie Vear of the UQ School of Human Movement and Nutrition Sciences, who progressed to the UQ 3MT® Final hosted by the UQ Graduate School on Wednesday 12 September at Customs House in the Brisbane CBD.
Here are all the presentations from the HaBS scholars.
---
WINNER: Natalie Vear
UQ School of Human Movement and Nutrition Sciences
3MT title: Preventing 'Heart Ache' for Breast Cancer Survivors

Natalie graduated with first class honours from the UQ Bachelor of Exercise and Sport Sciences program in 2016, majoring in Clinical Exercise Physiology. The focus of her PhD is the effects of exercise on cardiovascular structure and function in cancer patients, focusing on both breast and prostate cancer.
---
RUNNER-UP: Nazanin Falconer
UQ School of Pharmacy
3MT title: Catching high-risk patients

Nazanin is a pharmacist in the final year of her PhD at the UQ School of Pharmacy. She has worked as a hospital pharmacist for over ten years and is passionate about medication safety and quality improvement.
---
PEOPLE'S CHOICE: Tayla Lamerton
UQ School of Human Movement and Nutrition Sciences
3MT title: An "Elevator" Pitch

Tayla completed her Masters in Psychology at the University of Otago in 2016. She was also a fitness instructor for 4 years prior to starting her PhD.  Combining her interests, she is now working towards a PhD in Exercise Psychology and Physiology at UQ.
---
Katelyn Melvin
UQ School of Health and Rehabilitation Sciences
3MT title: Engaging families for lasting impact

Katelyn is a speech pathologist who is passionate about supporting families of children with communication difficulties. Since completing her undergraduate degree at UQ, Katelyn has worked clinically across a number of acute and rehabilitation settings, as well as building her skills in research and teaching. She is currently completing her PhD within the UQ School of Health and Rehabilitation Sciences.
---
Noratthiah Nordin
UQ School of Psychology
3MT title: Does religion matter in Malay marriage?

Noratthiah has experience as a counsellor in college, but found her interest flourished when working with married individuals and couples. She is not currently working directly with clients, but is still trying to help couples with her research in marital satisfaction.
---
Tulio Fernandez
UQ School of Dentistry
3MT: A New Frontier for Regenerative Dentistry

Dr Tulio Fernandez is a specialised dentist from Colombia. After complete his Doctor of Dental Science (D.D.S.) program at Universidad del Valle, he also completed a MSc. Clinical Dentistry in Oral Implantology and Reconstructive at Universidad Militar. Currently, he is PhD candidate at the UQ School of Dentistry under supervision of Professor Saso Ivanovski in the area of regenerative dentistry.
---
Melanie Plisinga
UQ School of Health and Rehabilitation Sciences
3MT title: Hands off my bum

Melanie is currently completing her PhD at the UQ School of Health and Rehabilitation Sciences, having graduated with a Bachelor and Masters of Human Movement Sciences in 2015 at the University of Groningen in the Netherlands. Her research interests include understanding pain in chronic musculoskeletal conditions, and how education can sustainably improve physical and mental health.
---
Francisca Ribeiro
UQ School of Pharmacy / Queensland Alliance for Environmental Health Sciences (QAEHS)
3MT title: Is eating seafood becoming a risk?

Francisca completed her Master's Degree in Marine Biology in 2016 and she started her PhD in the field of Environmental Toxicology, with a shared scholarship between The University of Queensland and the University of Exeter. She is particularly interested in investigating the risks of the dietary exposure to microplastics through seafood consumption.
---
Samuel Pearson
UQ School of Psychology
3MT title: Social Intelligence: A neuroscientific exploration of interpersonal magnetism

Samuel is a 2nd year Psychology PhD student under the supervision of Professor Bill von Hippel. His research applies a neuroscientific perspective to understand the cognitive architecture behind social success.