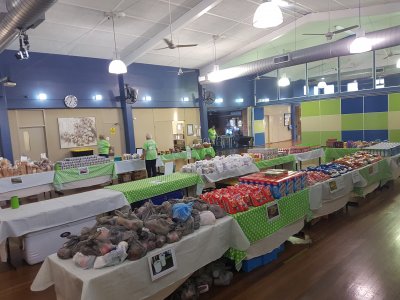 In recognition of World Food Day (16 October 2018) we spoke to Dr Anthony Tuckett from the School of Nursing, Midwifery and Social Work about the work he is doing with the Burnie Brae Project Pantry Market Day to improve access to nutritional food for older pensioners in need.
Why is the Burnie Brae Pantry Market Day such a great example of addressing the World Food Day theme, Zero Hunger?
The Burnie Brae Project Pantry Market Day represents a viable, safe and effective food security strategy. It is one way to tackle head-on the WFD theme: Zero Hunger by ensuring older Australians, those on a pension or disability support, have access to nutritious food.
How does Project Pantry Market Day work?
It enables old age pensioners and those on disability support pension to save money on basic food items in an effort to give them food security and financial flexibility to enjoy a better quality of life and to continue to live independently. On the first Saturday of every month, Burnie Brae runs the Project Pantry Market Day at Chermside. For a small cost of $10 a pensioner can fill a basket with tinned food, cereals, rice and pasta, eggs, biscuits, breads, fresh fruit, vegetables and personal care items. For an added $2, they can also take a meat pack. The Market Day runs on the grace and energy of volunteers. It also offers a free morning tea to encourage and foster social engagement – important for emotional and cognitive health, and a second-hand, bric-a-brac and purchasing area.
How is your research work used to improve the service?
I have worked closely with Burnie Brae previously using the Our Voice Citizen Science framework (Stanford University) and it offers a very human-centred, user-lead approach to evaluation and translational outcomes to create change. It puts the older person and the pensioner in the 'driver's seat'. It is evaluation research by the people for the people. Citizen scientists use digital images that they take to provide feedback to Burnie Brae executive, public officials, administrators and government organisations about what they like, what they would like changed and the solutions they think should happen to bring about these changes.
When the nominated Citizen Science Advocates presented the groups' findings in a formal public meeting they achieved instant results. The Market Day members will see changes by the Burnie Brae executive to the market day and Foodbank Queensland has acted and is advising its suppliers.
Can you highlight some of the key statistics about older people living in poverty and food insecurity?
We live in a world where we will need 70-100 per cent more food by 2050, and older adults are living longer than ever before. Older people, we know, worry that they will 'outlive their money' and simply not have enough - and not spend it on food. They will go without. Let's look at some of the figures here:
1 in 4 older Australians live in poverty
36 per cent of Australian pensioners live below the poverty line
Food insecurity among the Australian population is estimated at 5 per cent; of that 5 per cent, 40 per cent are at a severe level.
We need to take heed and reach out to older Australians.