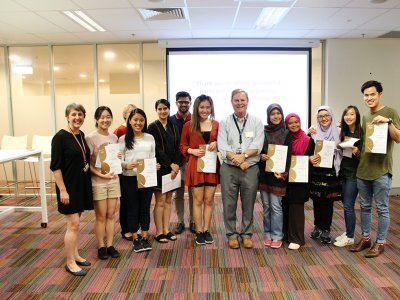 A glimpse into the lives of University of Queensland international students was captured in a student video competition that showcased their experiences studying and living in Brisbane.
The UQ School of Pharmacy international student competition encouraged students to produce a video and the most original, interesting and creative entry was awarded $500.
Lecturer Dr Jacqueline Bond from UQ's School of Pharmacy said the judges were thoroughly impressed with the quality of videos produced.
"We had entries from Canada, Hong Kong, Korea, Singapore and Malaysia, so we loved seeing from the students' perspective how they perceive their day to day lives as students and tourists exploring UQ and Australia," Dr Bond said.
"Students organised road trips, invited their friends over for dinner parties and wrote and sung original songs to vie for the winning prizes.
"The time, effort and creativity used to produce the videos was evident as they were all exceptional."
Team Singapore was awarded first place with a prize of $500, with Team Malaysia and Team Canada A coming in a close second and third.
The producers of the winning entry Isabel Li Ying Chin and Jian Liang Eric Khek from Team Singapore were thrilled to win with their video.
"We wanted to do something unique and showcase what pharmacy is really about, as a lot of people don't know exactly what pharmacists do such as compounding to prepare personalised medications," Isabel said.
"We also wanted to show what we do outside of studying, like grocery shopping, washing our clothes, socialising with our friends and taking road trips."
The UQ School of Pharmacy international student video competition finalists were:
Winner
Team Singapore: Isabel Li Ying Chin and Jian Liang Eric Khek
Second
Team Malaysia: Fathin Kamaruzzaman, Nik Diana Farhana Nik Di Nik Razali and Nur Fazlini Ismail
Third
Team Canada A: Min Jeong Kim Canad, Angel Lee, Kiran Rai and Marlanna Venugopal
Highly Commended
Team Canada B: Kajal Grewal and Raj Patel
Team Hong Kong: Oi Sze Isy Yu, Ho Yan Lung and Emily Leung
Team Korea: Sei Jeong and Hyeon Jae Lee