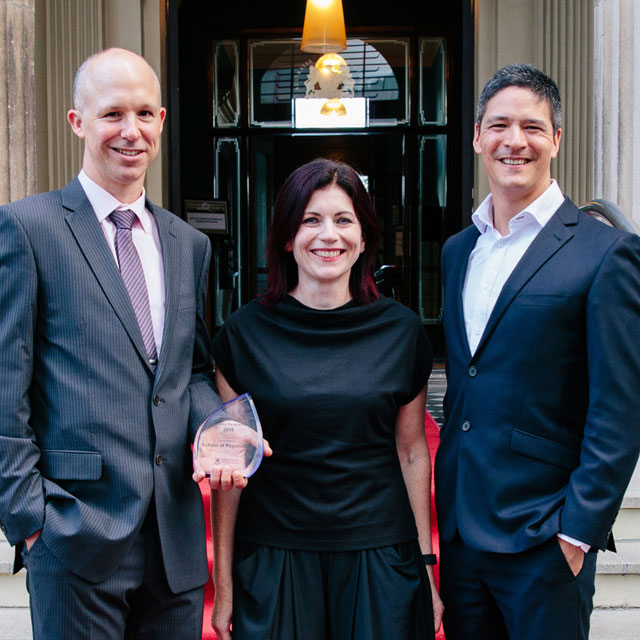 A University of Queensland course is so good it is criminal, with CRIME101x: The Psychology of Criminal Justice winning yet another accolade.
The team behind the popular course, Associate Professor Blake McKimmie and Professors Barbara Masser and Mark Horswill from UQ's School of Psychology were named the winners of the 2018 edX Prize for Exceptional Contributions in Online Teaching and Learning.
UQ Deputy Vice-Chancellor (Academic) Professor Joanne Wright said this was the third award that the massive open online course (MOOC) had won.
"This course's continued success is a testament to its excellent facilitators, who saw an opportunity to educate not just students on campus, but thousands of international learners via the edX platform," she said.
"The academics use interactive teaching methods and dramatic videos to teach students to examine the law and justice system from a psychological perspective.
"This course embodies the kind of innovative structure and thinking that UQ is focused on in its Student Strategy, which aims to create high-quality online active learning experiences that lead to well-rounded and job-ready graduates."
The edX prize is an annual award to celebrate the contributions and innovations of MOOC teachers in the edX community, and to amplify the powerful role that MOOCs play in the transformation of education today.
EdX CEO and MIT Professor Anant Agarwal said he was pleased to present the prize to the UQ team.
"The Psychology of Criminal Justice course is a thrilling and engaging look at the psychology of criminal justice set against the backdrop of a hypothetical murder," he said.
"Their passion for this subject comes through in the course, which uses realistic drama combined with novel assessments to reinforce the course content.
"We are honored to recognize Professors McKimmie, Masser and Horswill and we thank them for their dedication to teaching and spreading the edX mission of increasing access to high-quality education worldwide."
The course has previously won a bronze award at the 2018 Wharton-QS Stars Reimagine Education Awards in the social sciences category, and a 2016 MERLOT (Multimedia Educational Resources for Learning and Online Teaching) Classics Award.
EdX is the leading non-profit online learning destination founded by Harvard and MIT.
Sign up for the free CRIME101x: The Psychology of Criminal Justice online.