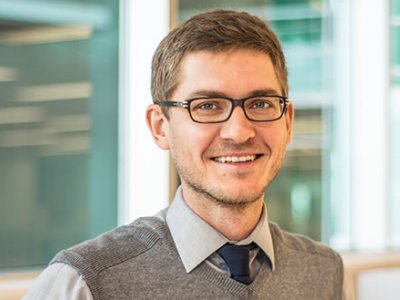 Each month we shine the spotlight on a researcher in the Faculty of Health and Behavioural Sciences.
This month we spoke to Dr Marcin Sowa, Postdoctoral Research Fellow at the Centre for the Business and Economics of Health (CBEH).
What are your key research interests?
Using large medical datasets to advance our understanding of chronic diseases, and improving government incentives around private health insurance. Recently I have also taken interest in the economics of dental care, especially in the context of taxing sugar consumption.
Can you share some of your career highlights so far?
Being offered the opportunity to coordinate the course 'Economic Evaluation and Health' in the UQ School of Economics was a major step in my academic career. I have also enjoyed participating in the decision-making process of the Pharmaceutical Benefits Advisory Committee and the Medical Services Advisory Committee, two bodies that advise the Minister for Health on the goods and services available through Medicare.
What aspects do you enjoy most about your career?
Health economics is an applied field with implications for how we allocate scarce resources in the health care system. It plays an important role in focusing our collective efforts on the activities where the most benefit can be generated under existing constraints. Working alongside clinical experts and having input into such decisions is very rewarding. I also find it satisfying to share my expertise outside of academic research, through teaching, debating health sector policy, and assisting with the adoption of medical technologies.
What inspired you to pursue a career as a researcher?
Reading a book by János Kornai and Karen Eggleston entitled Welfare, Choice and Solidarity in Transition: Reforming the Health Sector in Eastern Europe made me realise how big, complex and important the health sector was. Upon finishing the book I decided to become a health economist and never looked back.
What advice would you give students thinking about a research career?
Make sure you have genuine interest in your research topic. It may not be essential for success but it will definitely make the journey easier. Secondly, learn methods and skills that are sought after and which you enjoy using. They will come in handy in the good times and the bad.
What was your first role after you graduated from university?
After graduating with a Master's degree in Economics I went to work in the banking sector. The plan was to gain some experience as an economist while preparing my PhD proposal and looking for the right opportunity to engage in research. The opportunity came two years later from the Australian National University.
What are your interests outside of work?
Sports (running, swimming, and soccer) and technology, especially recent advancements in Artificial Intelligence.