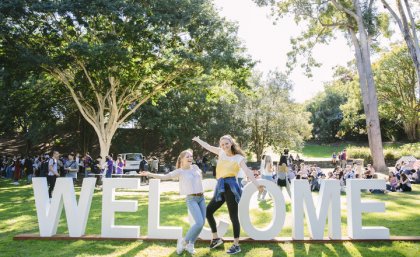 More than 10,000 Australian undergraduate students have received offers to study at The University of Queensland in 2019, with strong demand continuing for health courses.
Deputy Vice-Chancellor (Academic) Professor Joanne Wright congratulated students who received offers in today's QTAC round.
"You have earned a place to study at a university consistently ranked among the world's best," she said.
"Students enrolling at UQ can look forward to being part of a diverse, inclusive community with a strong focus on helping them to succeed.
"We look forward to welcoming our latest cohort next month."
Professor Wright said there had been an increase in demand for places in Computer Science, with offers doubling from last year.
"The demand for computer science graduates is high, especially with the growing need for experts in cyber security.
"As computers continue to support more services than ever before, securing these systems becomes more challenging and crucial.
"Degrees leading to a health profession, including physiotherapy, nursing and psychological science, are also very popular, accounting for more than a third of our first-preference applications."
Professor Wright said the University would still accept applications and changes of preference for most courses in the 25 January offer round. 
"I encourage prospective students to contact us about the options available."
Professor Wright said students enrolling in UQ could be confident their qualification would be valued by prospective employers.
"Just last week, UQ was ranked fifth nationally, and first within Brisbane, for employer satisfaction," Professor Wright said.
The 2018 Employer Satisfaction Survey showed that almost 90 per cent of managers who had recently employed a UQ graduate said that they would consider hiring another graduate from UQ.
Professor Wright said UQ students had access to a broad range of experiences, including opportunities to studyand volunteer overseas, and programs to enhance employability and entrepreneurship.
Students have until 22 January to respond to today's offers.