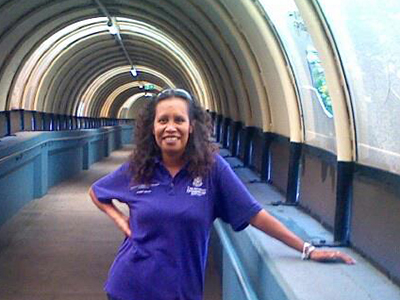 Each month we shine the spotlight on a researcher in the Faculty of Health and Behavioural Sciences.
This month we spoke to Lee Sheppard, PhD candidate, UQ Poche Centre for Indigenous Health and School of Human Movement and Nutrition Sciences.
What are your key research interests?
My key research interests are:
Aboriginal self-determination
Yarning and Dadirri
Sport for Development (SfD) programs.
Can you share some of your career highlights so far?
My career highlights so far are:
Being given the opportunity to work as an Indigenous research assistant with an inter-disciplinary team (anthropology and archaeology) very early in my undergraduate degree.
The development of the notion of cultural offsetting – which I first explored as part of my Honours in 2015. Cultural offsetting is one form of mitigation that has been proposed to help reduce the social consequences of site/place destruction during mining activities, based on the template provided by biodiversity offsetting.
Being able to work closely with my mentor, friend and colleague, Dr Anne Ross, during the completion of my Honours thesis.
Presenting and discussing my work with colleagues at two domestic conferences: Race, Whiteness and Indigeneity International Conference, Gold Coast, Queensland, Australia, 6-8 June 2017; and 'BE IN SHAPE' HMNS Conference, University of Queensland, St Lucia campus, 6-7 October 2017.
Presenting and discussing my work with colleagues at the 6th International Conference on Qualitative Research in Sport and Exercise, 6-8 June, 2018, Vancouver, Canada.
Having the opportunity to complete my PhD project with world leading researchers in sport and SfD.
What aspects do you enjoy most about your work?
I enjoy the solitude that research brings when I am writing. However, what I enjoy the most is getting out and about and talking with community peoples in my research communities, Cherbourg and Murgon.
Has your career taken you to any interesting, far-flung locations?
During undergrad, I was employed as an Indigenous Cadet with Rio Tinto Iron Ore in their Communities section in Dampier, Western Australia. Dampier is where the desert meets a crystal clear blue ocean and is, I think, one of the most beautiful places on the planet.
As noted above, I recently presented at a conference held on the University of British Columbia's campus, Vancouver, Canada. This was the first time I ever left Australia, so it was quite exciting for me.
What inspired you to pursue a career in academia?
I did not intend to pursue a career in academia, it just happened! I excelled during undergrad as my studies were the only outlet I had where I could switch off and not have to think (for a few hours at least) about the intense legal and mental health issues surrounding a close family member that I had to deal with on their behalf. After I graduated undergrad I swore I would never undertake an Honours, Masters or PhD – but here I am. Though I did not see seek a career in academia, the path seemed to unfold every step of the way. I attribute this to the faith that former lecturers, staff from the Aboriginal and Torres Strait Islander Unit and other UQ academics have expressed in my abilities as a researcher and writer both in the past and present that inspired me to continue pursuing a career in academia.
What advice would you give to someone thinking about a research career?
The best advice I would give to someone thinking about a research career is to just 'go for it'. A research career is both frustrating, but for the most part, rewarding,