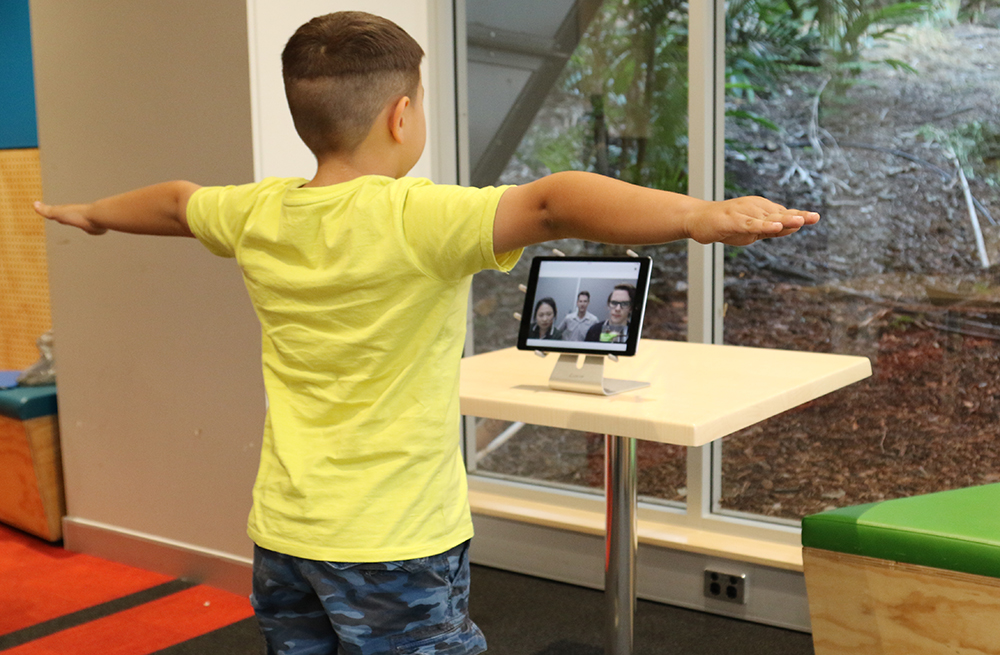 The tyranny of distance is a major problem for rural Australians who require specialist treatment from an allied healthcare practitioner. Living in a remote location can mean spending an entire day in travel for a one-hour appointment.
UQ graduate Trevor Russell—now a Professor in Physiotherapy at UQ's School of Health and Rehabilitation Sciences—experienced firsthand the frustration of treating geographically isolated patients when working as a physiotherapist in Toowoomba.
Inspired to ease patient suffering and reduce the need for excessive travel, he returned to UQ in 2000 as a PhD student to explore the use of technology to treat remote patients.
"There wasn't anything suitable available, so we developed eHAB© – a platform with all of the measurement and assessment tools that a therapist would normally use in a face-to-face consult built into the system," Professor Russell says.
eHAB© is a software platform with advanced audio, video, multimedia and measurement capabilities. It allows physiotherapists, speech pathologists, occupational therapists and audiologists to diagnose and treat patients in regional and remote areas as effectively as if they were in the same room.
Supported by UniQuest (UQ's commercialisation company), eHAB© was licensed to NeoRehab, a UQ start-up company, in 2009.
Between 2011 and 2016, 17 healthcare provider organisations adopted eHAB©, enabling some 7300 Australians to receive over 1850 hours of rehabilitation care. Adopters included large organisations such as Queensland Health; non-government healthcare providers, private practices, university clinics and research centres; and state-based healthcare bodies in the US.
Research has shown the use of eHAB© provides many benefits, including:
more timely access to services
access to services that clients would otherwise have been unable to receive
lower cost to the patient related to time and travel to services
lower cost to the healthcare provider due to more efficient use of clinician time and reduced travel to provide services
a reduced carbon footprint from reduced travel to and from health services.
UQ's Centre for Research in Telerehabilitation
Professor Russell developed the eHAB© technology with research collaborator and fellow innovator, speech pathologist Professor Deborah Theodoros. They are co-directors of the Centre for Research in Telerehabilitation (CRT) in UQ's School of Health and Rehabilitation Sciences. Both are regarded as world leaders in telerehabilitation research.
"The centre comprises a multidisciplinary team of nationally and internationally recognised researchers from the fields of audiology, occupational therapy, physiotherapy and speech pathology, who have received competitive grant funding totalling over $10 million," Professor Theodoros says.
"The team undertakes research and establishes the evidence base for telerehabilitation applications to improve access to services in the home for persons with communication disorders, physical disabilities and hearing impairments."
Research emerging from the centre has had significant and wide-reaching impacts on the telerehabilitation field in the allied health profession through industry publications, policy influence, research translation and the development of technologies such as eHAB©.
To further support the change in how rehabilitation services can be provided effectively, UQ telerehabilitation researchers have developed workforce training programs for current and future health professionals.
This includes a Telepractice Dysphagia Assessment Service program designed for Queensland Health. The program guides service implementation for managers as well as training for staff on their roles and responsibilities.
Basing the program on published evidence and national, state and discipline-specific guidelines for dysphagia (swallowing difficulty) has encouraged widespread uptake, with eight speech pathologists and 17 healthcare support workers accessing the package across 18 Queensland Health sites.
CRT members also established a telerehabilitation service in the Central Integrated Regional Cancer Service at the Royal Brisbane and Women's Hospital. More than 80 speech pathology referrals were managed between 2013 and 2015, and services were found to be more efficient when compared with traditional service delivery, resulting in reduced numbers and duration of consultations.
Transforming healthcare education
In 2015, CRT researchers established Australia's first Telerehabilitation Clinic thanks to a generous philanthropic donation of $500,000 by the Bowness Family Foundation.
The clinic provides physiotherapy, speech pathology, occupational therapy and audiology students with online learning modules and practical exposure to technology to gain simulated experience in telerehabilitation. More than 70 students received the training between 2015 and 2016.
Some students are subsequently rostered to a clinical placement in the clinic, where they provide services to children and adults with physical, communication, hearing, and learning difficulties. Between 2015 and 2016, they delivered more than 900 occasions of speech pathology and occupational therapy services to seven primary schools in Western Queensland and private services throughout South East Queensland.
Professors Russell and Theodoros and the CRT team are committed to the continued development and evaluation of telerehabilitation so that access is no longer a barrier to rehabilitation.
As Professor Theodoros points out, it's not just an issue for people living in rural or remote locations.
"Access to services can be equally problematic for those who require assistance to attend a centre-based clinic in a metropolitan area," she says.
"You could live down the street from a clinic but find it difficult to get there due to physical and transport issues.
"Telerehabilitation offers an alternate service delivery method that allows a person to be treated in the comfort of their own home, in their own community, no matter where they are."