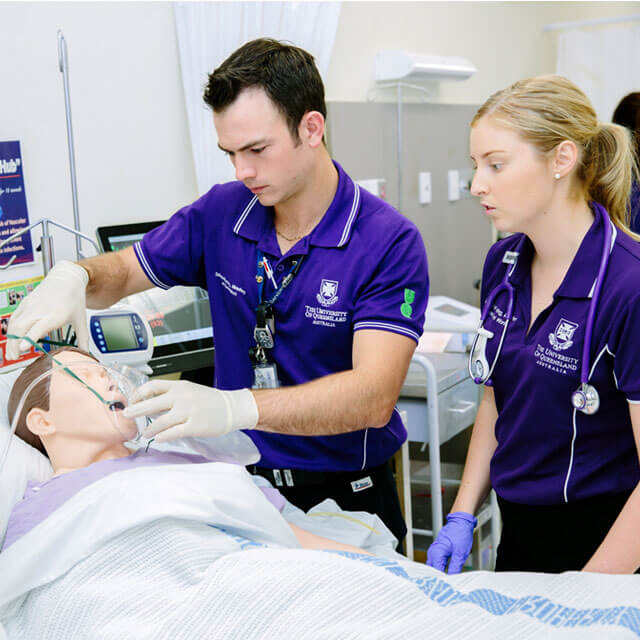 The University of Queensland has jumped three places to be ranked ninth in the world for Nursing in the latest global subject rankings.
UQ is the only Australian university with four subjects ranked in the top 10 in the ShanghaiRanking's Academic Ranking of World Universities, and is in the top 50 in 19 subjects.
UQ Faculty of Health and Behavioural Sciences Executive Dean Professor Bruce Abernethy said the rankings were a true reflection of the exceptional teaching, learning and opportunities available to UQ students.
"Our Nursing area performed particularly strongly, making the top 10 universities in the world which is a really tangible way to see the impact of our award-winning teachers, courses and well-established clinical and industry partnerships," Professor Abernethy said.
UQ School of Nursing, Midwifery and Social Work Head of School (Acting) Professor Jill Wilson said students studying at UQ gained access to superior programs and leadership in nursing research and development.
"These results are a testament to UQ's high level of industry collaboration, the relevance and quality of our research, and hence its impact across the nursing sector," she said.
UQ School of Pharmacy Head of School Professor Peter Little AM said the results were a wonderful emanation of UQ's almost 60 years of teaching excellence across undergraduate, research higher degree and postgraduate courses in Pharmacy and Pharmaceutical Sciences, which ranked 27th in the world and second in Australia.
"It is the international perspective and activities in teaching, research and innovation in pharmacy practice that lead to the outstanding global ranking," he said.
UQ also ranks in the top 10 in Mining and Mineral Engineering, Hospitality and Tourism Management and Biotechnology.
The ShanghaiRanking's Global Ranking of Academic Subjects 2019 ranks 4000 universities across 54 subjects on indicators including research productivity and quality, the extent of international collaborations, and academic recognition.
Media: Jo Hickman, UQ Communications, jo.hickman@uq.edu.au, +61 7 3346 3037.