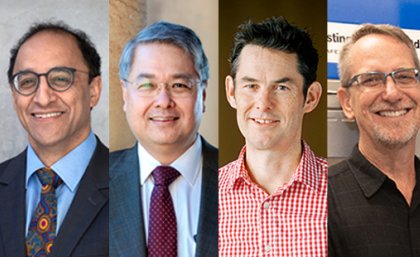 The Australian Academy of Health and Medical Sciences has elected four University of Queensland professors as fellows.
Professor Paul Hodges from the School of Health and Rehabilitation Sciences, Centre for Advanced Imaging director Professor David Reutens, Queensland Brain Institute director Professor Pankaj Sah and School of Chemistry and Molecular Biosciences' head Professor Paul Young join the interdisciplinary academy.
UQ's new fellows were among 40 elected at the Academy's fifth annual meeting this month in Perth. The University's Professor Ian Frazer also stepped down as president, a position he had held since the academy's inception.
UQ Vice Chancellor and President Professor Peter Høj congratulated the new fellows on behalf of the UQ community.
"Academies play an important role in bringing together the nation's top researchers to discuss global problems facing us all and how these can be addressed," Professor Høj said.
"They are prestigious circles of the best minds in academia and research.
"UQ's four new AAHMS fellows can rightly feel honoured to have been elected.
"Similarly, the academy can be proud of electing four very fine and highly accomplished UQ researchers and academic leaders."
AAHMS is an independent, interdisciplinary body of 357 fellows who are elected by their peers for their "distinguished achievements and exceptional contributions to health and medical science in Australia".
The UQ School of Public Health's Professor Gita Mishra and UQ Centre for Clinical Research's Professor Sunil Lakhani were elected as AAHMS fellows in 2017.
The academy's Perth gathering included a scientific meeting to explore Australia's preparedness for the next pandemic, reflecting on the centenary anniversary of the Spanish Flu reaching Australia in 1919.
Nobel Laureate Professor Barry Marshall AC addressed the meeting, as did Dr Melanie Saville from the UK-based Coalition for Epidemic Preparedness Innovations, who discussed 'Disease X' – the unknown disease behind a future epidemic.
AAHMS was formed in 2014 "to provide an impartial and authoritative voice for healthcare, informed by the best available evidence".
The University of Melbourne's Professor Ingrid Scheffer AO takes over from Professor Frazer as academy president.
"It has been an honour to be given the responsibility of serving as the Academy's inaugural president, and to oversee the Academy's recognition as Australia's newest Learned Academy," Professor Frazer said.
"I recognise the great support from the academy board members, Council and Executive over the past five years and I warmly welcome Ingrid Scheffer as the academy's incoming president," he said.
Contact: Fiona Cameron, UQ Communications, ph +61 7 3365 3439, f.cameron2@uq.edu.au.