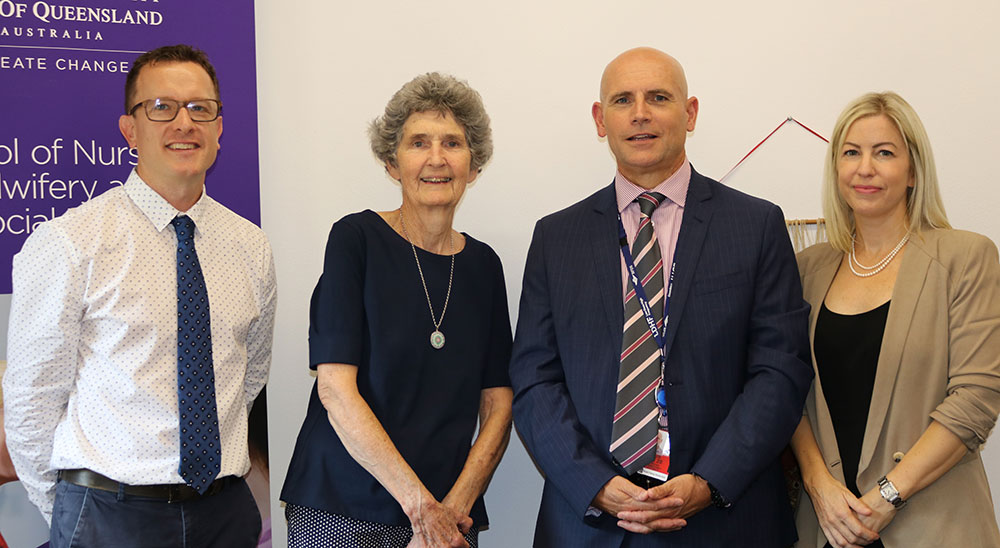 The University of Queensland and the Royal Flying Doctor Service (RFDS) have joined forces to expand educational opportunities for nurses.
Professor Jill Wilson, Acting Head of School for UQ's School of Nursing, Midwifery and Social Work and Ronan Sweeney, Acting Head of Clinical Governance, RFDS Queensland Section, signed a Memorandum of Understanding (MOU) on 15 November 2019 at the UQ St Lucia campus.
In attendance were Sarah Black, Chief Nursing Officer, RFDS Queensland Section, and Aaron Grogan, Program Lead for UQ's Master of Nurse Practitioner (MNP).
Mr Grogan said the MOU sets a platform to grow an important relationship.
"We are delighted to create this education agreement between the RFDS and the UQ MNP program," he said.
"Our aim is to enhance the skill set and capacity of the RFDS registered nursing staff.
"Nurses from RFDS will be able to focus on chronic/primary care and acute aeromedical through the MNP.
"There has already been substantial interest in UQ's MNP program from RFDS nursing staff, and we are confident this will grow."
Along with the mutually-beneficial, ongoing education partnership focused on clinical education and skill development, the MOU outlines the establishment of a research partnership.
Find out more about the UQ Master of Nurse Practitioner.
Media: Aaron Grogan, a.grogan@uq.edu.au, +61 7 3365 2316; Dani Nash, UQ Communications, habs.media@uq.edu.au, +61 7 3346 3035.