Did you know that in order to graduate, UQ midwifery students must follow 20 expectant mothers throughout their pregnancy and complete 30 hands-on births?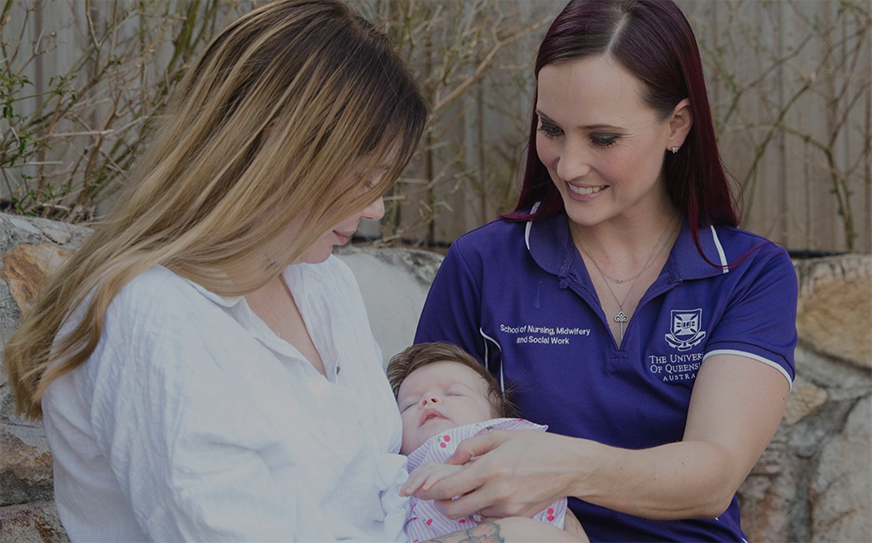 It's a highly demanding degree, and students are dedicated to gaining the most experience they can before entering the workforce.
The 'continuity of care' model gives women the opportunity to see the same midwife, or small group of midwives, at every appointment.
Lecturer and Continuity of Care Coordinator at UQ's School of Nursing, Midwifery and Social Work, Peta Winters-Chang, said the continuity of care model was the gold standard of midwifery.
"It's really good for students to be exposed to that model, because ultimately we'd like all women to be able to have continuity of care in pregnancy."
Dr Ann Peacock, who is a Lecturer and Program Lead for UQ's Bachelor of Midwifery degree and the Bachelor of Nursing and Midwifery dual degree, said there was extensive evidence showing that continuity of care leads to positive outcomes for both mothers and babies.
"Research has shown that women can have less intervention, including fewer epidurals and less pain relief, because of the rapport that they have with the midwife."
"In high-risk groups, such as Aboriginal and Torres Strait Islander women and teenage pregnancies, the outcomes are clinically based, such as decreasing the rate of pre-term births."
Peacock and Winters-Chang both emphasised the importance of supporting students in balancing the different demands of studying midwifery.