Nursing students can progress their studies and enter the workforce sooner, thanks to a partnership between The University of Queensland (UQ) and Metro South Hospital and Health Service (MSHHS).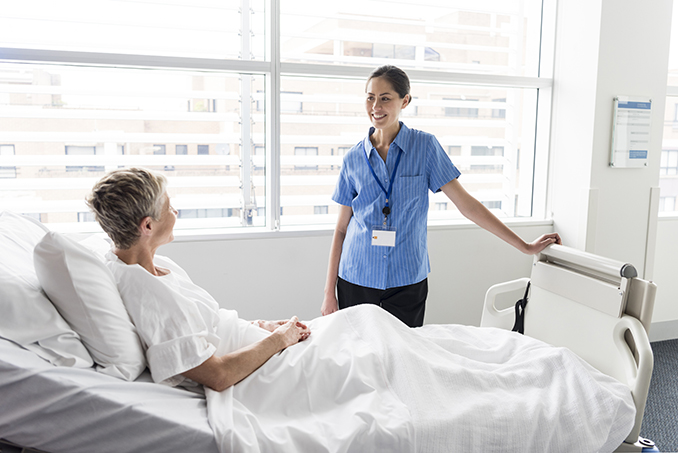 Professor Tracy Humphrey, Head of the UQ School of Nursing, Midwifery and Social Work, said the partnership was designed to ease pressure on the health workforce.
"The COVID-19 pandemic has resulted in an increased demand for nursing care and a requirement to build capacity quickly," she said.
"Students have already been identified as a critical component of support for the workforce, with a call for students to take on assistant and cadet positions.
"However, having more registered nurses in the workforce is vital.
"The partnership with MSHHS is our first step in ensuring fully-qualified and educated staff are able to increase the workforce as swiftly and safely as possible during the COVID-19 pandemic and beyond.
"This is a great example of UQ working with our industry partners on unique solutions to real-world problems, while also providing our students with a unique learning opportunity during these unprecedented times."
The accelerated pathway has been offered to final year Master of Nursing Studies students at UQ.
More than 70 per cent of students have taken up the offer, and will begin full-time practice placement in the Princess Alexandra Hospital from 27 April 2020, while continuing their theory courses online.
Upon completion of their studies in August – rather than December – they will be eligible to apply for registration as a fully qualified nurse and be employed by health services.
Ms Veronica Casey AM, Executive Director of MSHHS Nursing and Midwifery Services, said the partnership was making a valuable contribution to the healthcare sector.
"The UQ and Metro South combined accelerated final-year initiative will ensure we continue to provide the highest quality health care to people in our region," she said.
The University of Queensland is currently investigating other areas for accelerated learning pathways for allied health students.
Media: Professor Tracy Humphrey, t.humphrey@uq.edu.au, 0448 354 228; Dani Nash, UQ Communications, dani.nash@uq.edu.au.