As Associate Dean (Research) Professor Greg Monteith is responsible for driving the growth and impact of UQ's Faculty of Health and Behavioural Sciences world-leading research.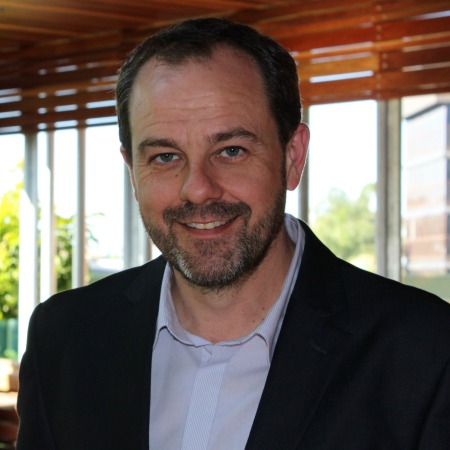 Faculty Executive Dean Professor Bruce Abernethy said Professor Monteith is an outstanding researcher in his own right, with a career track record of over $10 million in funding for breast cancer research.
"Greg brings more than 22 years' experience in research and education to the role," Professor Abernethy said.
"His wealth of knowledge in the research sector and his track record in building partnerships with government and enterprise are an asset to the Faculty.
"Greg has attracted research funding from the National Health and Medical Research Council, Australian Research Council, National Heart Foundation, Queensland Cancer Fund and the US Department of Defence and collaborated with pharmaceutical companies.
"He has published widely in high impact journals such as Nature Reviews Cancer, Cell, and Cancer Cell.
"Greg is the ideal leader to take our research portfolio to the next level."
Professor Monteith said he was drawn to the role of Associate Dean (Research), because of the unique opportunities the Medical Research Future Fund and other funding schemes provide.
"The majority of research conducted by this Faculty sits right at the epicentre of the work that governments now want to fund," Professor Monteith said.
"I see great prospects for funding and hope to be an effective advocate and facilitator to help researchers achieve their goals to progress their research and make positive impacts on health.
"Another important focus is the career development of our Higher Degree by Research students and early career researchers, through the development and sharing of resources and leveraging the expertise and mentorship of our more established researchers."
Professor Monteith started his career at UQ in 1998 as a lecturer in UQ's School of Pharmacy, following undergraduate and doctoral training at the University of Sydney and a postdoctoral fellowship at the University of Maryland.
Professor Monteith progressed through the ranks to become a full professor in 2012.
Professor Monteith has been a member and chair of a number of NHMRC Fellowship, Ideas and Investigator Grant panels and a key player in UQ's successful ARC Excellence in Research for Australia submissions.
In 2006 he received a UQ Foundation Research Excellence Award and in 2016 he received the UQ Research Higher Degree Supervision Excellence Award.