Each month we shine the spotlight on a researcher within the Faculty of Health and Behavioural Sciences.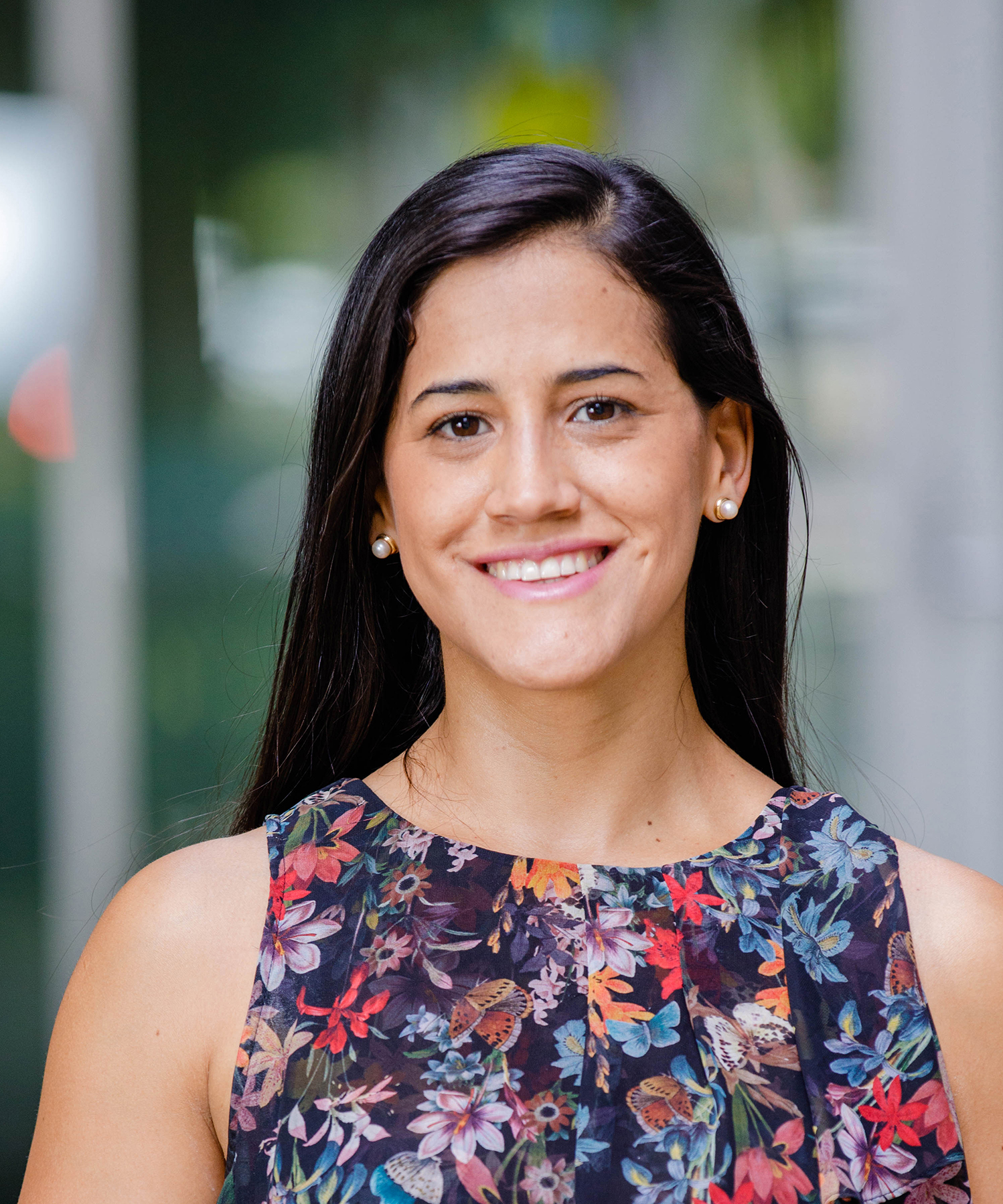 This month we caught up with Dr Gabriela Mena, PhD candidate within the Centre for Research on Exercise, Physical Activity and Health (CRExPAH) at the UQ School of Human Movement and Nutrition Sciences (HMNS).
What are your key research interests?
My research focuses on examining the effects of physical activity and exercise on reproductive health in women. I have a special interest in how physical activity/exercise can affect the reproductive system in women who have fertility problems and are trying to conceive. I also look at the associations between sedentary behaviour (e.g. sitting time) and body mass index (BMI) with many reproductive health outcomes such as infertility and menstrual problems. I am truly an advocate for the benefits of physical activity on health, and my goal is to be able to translate these benefits to reproductive health, so many more women can benefit from it. I am also interested in reproductive endocrinology, public health and health promotion.
Can you share some of your career highlights so far?
I think the highlights of my (rather short) academic career are the times that I have had the opportunity to present and discuss my research at conferences. Being the recipient of the 'Wendy Ey Award – Women in Sport' for best paper in the 2019 Sports Medicine Australia (SMA) Conference last year is definitely one of the highlights. I felt so honoured that my research on physical activity/exercise and infertility was chosen for such a prestigious award. Another highlight was when my first PhD paper, published in the esteemed Human Reproduction journal was the editor's pick to be part of the 2019 Spotlight Article Collection from the European Society of Human Reproduction and Embryology (ESREH). It was very rewarding to see that the effort of a full year of hard work paid off.
What aspects do you enjoy most about your work?
I really enjoy being involved with like-minded researchers and colleagues. I am lucky enough to belong to a research group (CRExPAH), where all of us are involved in research in physical activity/exercise and health. It is great to be able to form new collaborations and to meet new students and/or visiting academics. We have a very international group which makes it more interesting! I have had the pleasure of meeting people from around the globe, who I can now call friends on this PhD journey.
What inspired you to pursue a career in academia?
Good question! I don't think there's an exact point in my life where I thought 'oh I want to pursue a career in academia' but more like one thing led to another. When I graduated from Med School, I started working in a rural town where as a young physician, I did a lot of primary care. I immediately noticed that most of the diseases and conditions that I was treating in my patients were preventable. This sparked my interest in public health and health promotion as at this stage I was convinced that we should be preventing rather than treating. This new interest motivated me to pursue a Master of Public Health here at UQ, where I was lucky enough to secure a Winter Research Scholarship and I had a taste of what a research career involved. I enjoyed being a research scholar so much and had amazing mentors who encouraged me to do a PhD. I think what I like the most about academia is the fact that you can reach a wider audience through research and that research has the ability to inform best practice advice and sometimes to make policy change.
What advice would you give to someone thinking about a research career?
My best advice would be making sure you LOVE your research topic. You will spend quite a few years of your life reading, learning, writing and presenting about the same thing that you have to be really passionate about it. There will be challenges (as in any other career) and you will have to put in hard work, but research is also exciting and fun when you truly enjoy what you are doing.
What was your first role after you graduated from university?
After finishing uni, my first role was as a rural physician. It was probably the most tiring and rewarding time of my life. I used to do primary care during office hours and also 24 hour shifts every 72 hours in the Emergency Department. After 5pm, we were only three doctors in charge of the hospital (15-bed hospital) and some months we were lucky enough to have two interns. It was certainly challenging, we had to deal with whatever came our way, but at the same time it was very rewarding as I had the opportunity to be in charge of the maternity ward during my shifts. I learned a lot about ob/gyn, delivered so many babies, got to be in close contact with future mothers and talked to them about their experiences with fertility. This sparked my interest in this area of research, hence why I moved towards research in women's health.
If you weren't a researcher, what do you think you would be?
A clinical educator. This would be the perfect mix between my love for medicine and research and teaching. Before starting my PhD, I taught to uni students at the Faculty of Medical Sciences back home and felt lucky to be contributing in a small way to the training of future colleagues. I have also had the opportunity to tutor in the 'Physical Activity and Health' and 'Research Skills' courses here at the School of HMNS and this experience just confirmed my love for teaching.
What are your interests outside of work? 
All things physical activity, of course! I like staying active and doing activities such as riding my bike, going to the gym, dancing, doing barre, pilates, everything! I also enjoy cooking (and eating), traveling and learning about new cultures.
What do you enjoy most about living in Brisbane?
The relaxed nature of the city. I love that there are a lot of green areas in Brisbane, with many opportunities to exercise. I really enjoy going for long bike rides along the Brisbane river and while I know this might be an unpopular opinion, I should say that one of the main reasons I like living in Brisbane is because of the weather.