A special issue entitled 'Understanding Blue Spaces: Sport, Bodies, Wellbeing, and the Sea', to be published in Journal of Sport and Social Issues in early 2021, examines relationships between blue spaces, sport, physical activity, and wellbeing.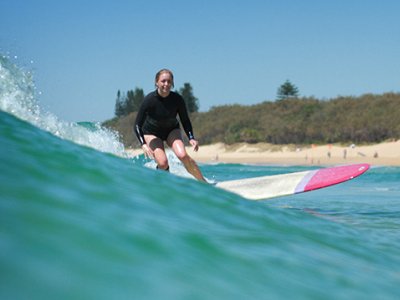 Dr Rebecca Olive, Senior Research Fellow (ARC DECRA) within the UQ School of Human Movement and Nutrition Sciences, and Professor Belinda Wheaton, from The University of Waikato, developed the project.
Dr Olive explains:
"Oceans and seas have long-been examined for their historical, scientific and economic significance, but over recent years there has been significant growth in research about blue spaces across a wide range of humanities, social science and health disciplines.
The term, 'blue space', is used to refer to water spaces including oceans, rivers, lakes and pools. Blue spaces are different to green spaces, which can be described as terrestrial spaces mostly covered in vegetation including parks, fields, forests and gardens.
More than ever, blue spaces are being promoted as important to human health and wellbeing. Recent research focused on beaches and oceans shows how connected our futures are. If we don't look after the health of beaches and oceans, our own survival is not ensured.
At the same time, spending time in blue spaces is really beneficial to our own health. The significance of this research is reflected in the growth in programs for ocean swimming, cold water immersion, surf therapy, and more. New programs are emerging every day, with the benefits for women's health, mental health, pain management, and ageing key areas of focus.
The environmental benefits of this are that sport and physical activities play a key role in how we access, learn about, and develop relationships to beaches, oceans and coasts, as well as to other people and communities. This includes getting to know other people, but it also includes learning more about the animals and plants that are part of coastal and ocean ecologies we immerse ourselves in.
Until recently, the importance of sport and physical activities to healthy oceans has been paid little attention. This special issue — 10 articles by Australian and international researchers from different disciplines who explore a variety of topics and activities — contributes to the contemporary understandings of the importance of sport in the relationships between the health and wellbeing of humans and oceans."
Visit 'Understanding Blue Spaces: Sport, Bodies, Wellbeing, and the Sea'