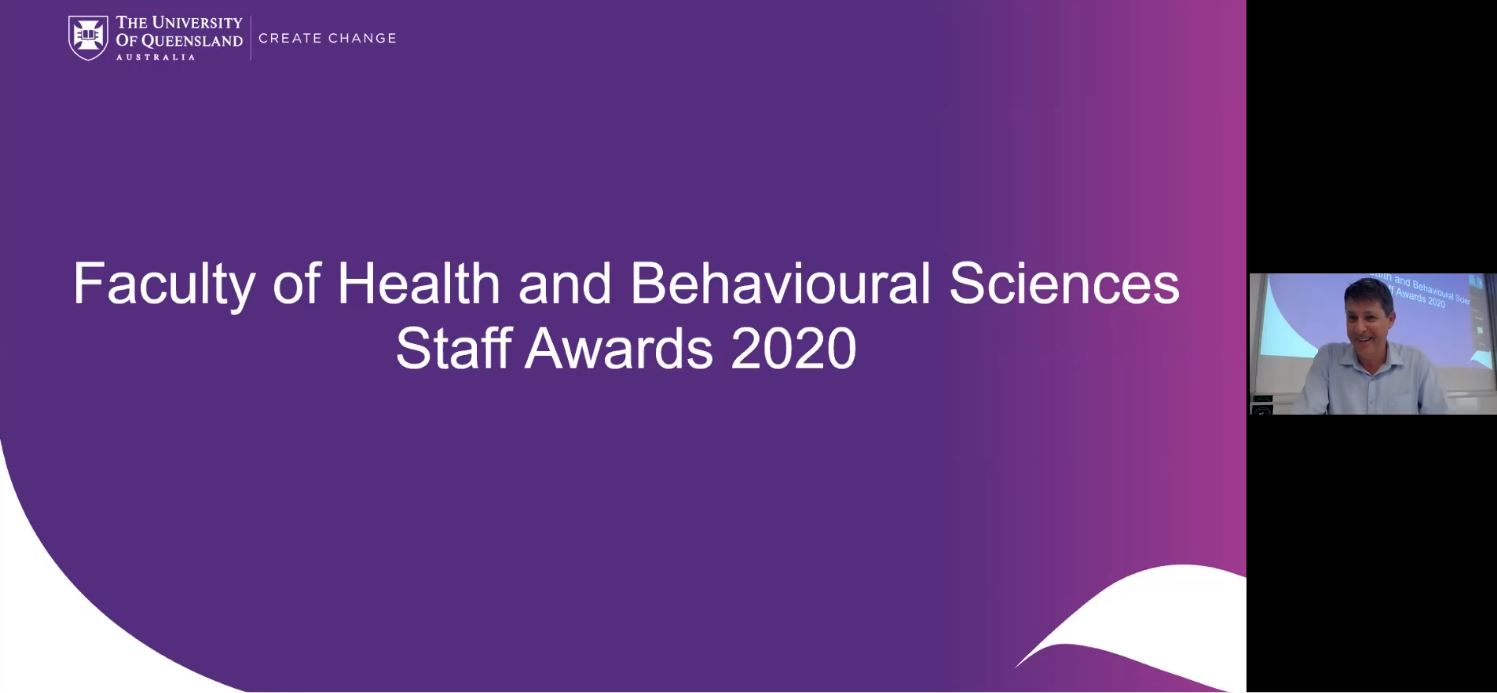 The annual UQ Faculty of Health and Behavioural Sciences Staff Awards celebrates the exemplary work of academic, research and professional staff.
The 2020 awards were presented virtually to more than 40 recipients by Faculty Executive Dean Professor Bruce Abernethy, Professor Blake McKimmie, Professor Greg Monteith, Professor Louise Hickson and Ms Tricia Williams.
Professor Bruce Abernethy said this year, in particular, we should celebrate our achievements as a Faculty and the contributions of our colleagues in what has been a challenging time.
"This is certainly a very different Staff Awards compared to previous years, and as with many things in 2020, we find ourselves gathering virtually.
"We will continue to recognise the extraordinary accomplishments of colleagues across Teaching and Learning, Research, Academic and Professional Staff in what has been an extraordinary time."
Teaching and Learning Awards
Awards for Programs that Enhance Learning
Award recipient:
Team IPEF (Interprofessional Education Foundations) HLTH1000 - (Dr Norman Ng, Professor Sarah Roberts-Thomson and Jessica Tsai)
Awards for Teaching Excellence
Award recipient:
Citations for outstanding contributions to Student Learning Awards
Recipients:
Dr Michael Thai (Early Career Citation), (Psychology)
Dr Sjaan Gomersall (Early Career Citation, (SHRS)
Tutor and Demonstrator Awards
Award recipients:
Aaron Basing (Pharmacy)
Silke Chalmers (Pharmacy)
Commendations:
Jared Miles (Pharmacy)
Emily Cox (HMNS)
Excellence in Clinical Professional Skills Education Awards
Award recipients:
Dr Bilal El Masoud (Dentistry)
Dr Matthew Nangle (Dentistry)
Commendations:
Emily Hume (HMNS)
Harley McIntyre (HMNS)
Commendations for Substantive Contributions to Student Learning Awards
Award recipients:
Dr Jacqueline Bond (Pharmacy)
Dr Jessica Zachar (Dentistry)
Dr Sobia Zafar (Dentistry)
Associate Professor Wayne Wilson (SHRS)
Associate Professor Joseph Kei (SHRS)
Research Awards
Early Career Research Excellence Award
Award recipients:
Dr Sarah Wallace (SHRS)
Dr Melissa Day (Psychology)
Higher Degree Research Supervision Award
Award recipients:
Dr Sean Tweedy (HMNS)
Associate Neil Cottrell (Pharmacy)
Research Translation Award
Award recipients:
Professor Michele Sterling (RECOVER)
Associate Matt Gullo (NCYSUR)
Research Mentorship Award
Award recipients:
Professor Jill Wilson (NMSW)
Dr Sjaan Gomersall (SHRS)
2020 HaBS Higher Degree Research – Excellence in Graduate Research Leadership
Professor Paul Hodges, Professor Bill Vincenzino and Dr Jenny Setchell (SHRS)
2020 HaBS Excellence in Promoting Industry Engagement Award
Professor Bill Vincenzino (SHRS)
Professional Staff Awards
Customer Service Award
Leadership Award
Jenny English (Psychology)
Innovation Award
Leisa Joyce (Faculty HR)
Auriel Sher (SHRS)
Above and Beyond Award
Anne Tobin (Faculty)
Christine McCoy (Psychology)
Commendations:
Roxanne English (Psychology)
Dion Scott (SHRS)
Teamwork Award
Award recipients:
St George team: Dr Derek Lewis, Madeline Worboys and Macy Coveney
Dalby team: Dr Graham Miller, Jade Utz and Noel Duncan
Sam Harris, Alecia James, Katie Martell and Kim Henville
Academic Awards
Global Engagement Award
Associate Professor Ratilal Lalloo (Dentistry)
Academic Leadership Award
Dr Jacqueline Jauncey-Cooke (NMSW)