An internationally-renowned teaching and research academic has been awarded a UQ Fellowship for her outstanding dedication to the University.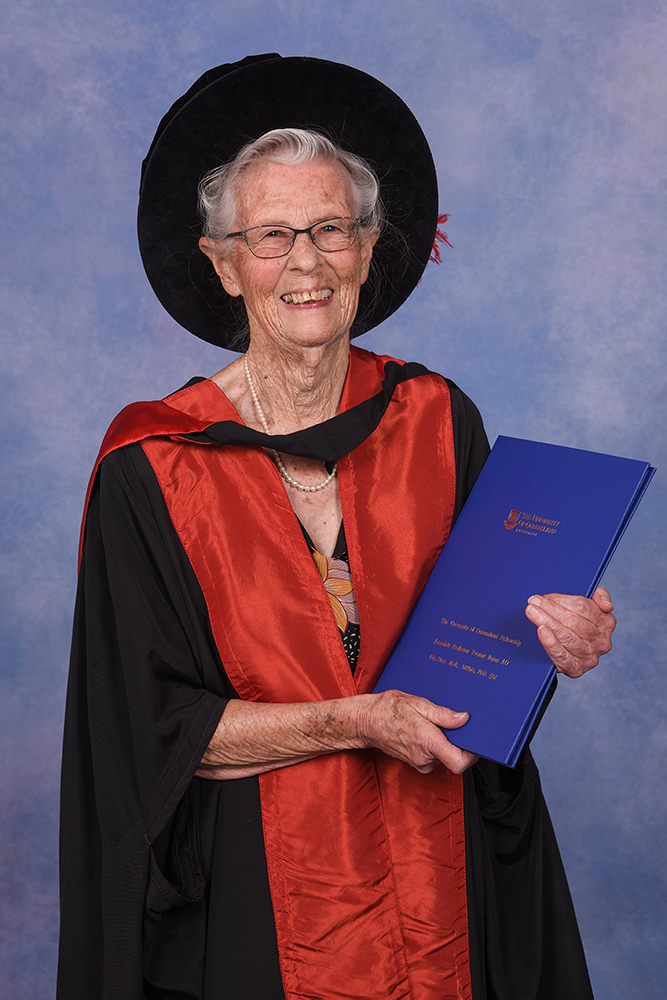 Associate Professor Yvonne Burns AO was recognised for her extraordinary and sustained contribution to paediatric physiotherapy both at UQ and to the broader community.
One of the longest serving UQ Heads of Physiotherapy, Dr Burns has continued her honorary service to UQ on a weekly basis since her retirement more than 19 years ago.
After almost 24 years as a teaching and research academic, Dr Burns has continued to supervise honours students and clinical placements in her specialty area of paediatrics physiotherapy.
She has also continued her research at the Mater Hospital Growth and Development Clinic, a research unit for follow-up of extremely preterm born babies that Dr Burns co-founded more than 40 years ago.
Dr Burns said she was thrilled to receive the UQ Fellowship.
"This award affirms my contribution to UQ," Dr Burns said.
"I enjoy teaching students clinical skills and keeping abreast of new knowledge.
"At UQ I have not stopped learning so why should I retire while I am able to continue?" 
Head of the UQ School of Health and Rehabilitation Sciences, Professor Sandy Brauer, said she was delighted to see Dr Burns' win this prestigious award.
"Everyone in the School is extremely proud of Dr Burns; her expertise and commitment are of the highest order," Dr Brauer said.
"Dr Burns' contributions in teaching, research and service in the field of paediatric physiotherapy have directly helped generations of students of UQ.
"In teaching, she has taught thousands of UQ Physiotherapy students in undergraduate, masters and PhD programs across pre-clinical, clinical and research courses.
"Through their subsequent clinical services, she has helped literally thousands more young Queenslanders.
"She established the UQ Masters of Paediatric Physiotherapy Program, the first of its kind in Australia, and the UQ student-led Paediatric Physiotherapy Clinic, one of the few university paediatric clinics.
"In research, Dr Burns is famous internationally for developing and teaching the 'Neurological Sensory Motor Developmental Assessment (NSMDA)' for children.
"She is an icon in the field of physiotherapy."
Dr Burns was awarded an Officer of Australia (AO) General Division in 2004 for service to paediatric physiotherapy clinical practice, teaching and research, and community service.
In 2001 she earned Honoured Membership and the inaugural 'Yvonne Burns Award for Excellence in Paediatrics' following outstanding service in pivotal Australian Physiotherapy Association (APA) roles, including President of the Queensland Branch and National Paediatric Special Group, and Chair of the Dorothy Hopkins Clinical Research Award Committee, Physiotherapy Research Foundation Grants Review Committee, and Ethics Review Committee.
Dr Burns has held key offices for the Wesley Mission, including Board Chair of Aged Care for the Wesley Mission Brisbane.
She was awarded Life Membership following outstanding service in several key Cerebral Palsy League roles, including Head of Physiotherapy, and later, Board Director and Board Subcommittee Chair Disability Services.
Dr Burns will continue to provide professional development to UQ physiotherapy staff, students and alumni through annual NSMDA courses and Motor Control Masterclass sessions hosted by the UQ Children's Motor Control Research Collaboration (CMCRC).
She plans to continue clinical education of undergraduate and postgraduate physiotherapy students through the UQ Paediatric Physiotherapy Clinic and Mater Growth and Development Clinic on a weekly basis, and will continue to support paediatric research  through co-supervision of honours students and co-hosting of honours and postgraduate students in the Mater Growth and Development Research Unit.
Dr Burns will also be a co-investigator on research involving the NSMDA to determine reliability for telehealth-based assessment, which is critical in the current COVID-19 environment.
Media: Dani Nash, UQ Communications, habs.media@uq.edu.au, +61 7 3346 3035.