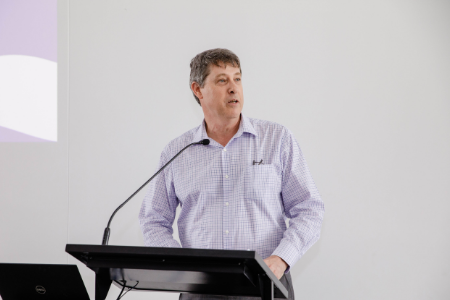 The annual UQ Faculty of Health and Behavioural Sciences Staff Awards celebrates the exemplary work of academic, research and professional staff.
The 2021 awards were presented both in person and virtually to more than 50 recipients by Faculty Executive Dean Professor Bruce Abernethy, Professor Blake McKimmie, Professor Greg Monteith and Ms Tricia Williams.
Professor Bruce Abernethy said the awards are a fantastic opportunity to come together to recognise and celebrate the achievements of high performing individuals in the Faculty.
"This has been a challenging year and some of the things that have been collectively achieved are really quite exceptional given the context in which they have occurred," Professor Abernethy said.
"I want to acknowledge everyone across the Faculty who do extraordinary things by going that little bit extra every day.
"These awards provide an opportunity to reflect on the many successes throughout the year, and some of the many staff who made it possible."
Teaching and Learning Awards 
Programs that Enhance Learning Award
Award Recipient:
WRAP Team (Work and Research in Applied Psychology)- Dr Natasha Matthews, Dr Mazlan Maskor, Jordan Reutas, and Michelle Heatley (Psychology)
Commendation:
Dentistry Peer to Peer Mentoring Team led by Dr Sobia Zafar for Student experiences and services supporting learning, development, and growth in higher education (Dentistry)
Teaching Excellence Award
Award recipients:  
Dr Emma Beckman (HMNS)

Dr Eric Vanman (Psychology)
Citation for Outstanding Contribution to Student Learning Award 
Award recipients:
Graham Lee (HMNS)

Dr Freyr Patterson (SHRS)

Dr Meng-Wong Taing (Pharmacy)
Commendation
Tutor and Demonstrator Award
Award recipients:
Taskeen Janjua (Pharmacy)

Dr Emma Knight (Psychology)

Amelia Tan (SHRS)
Excellence in Clinical and Professional Skills Education Award
Award Recipients:
Third-year conjoint lecturer pharmacist team- Chastina Heck, Serena Rofail , Natasha Taufatofua , Chih Yuan (Jason) Wang, and Karl Winckel (Pharmacy)
Commendations for Substantive Contributions to Student Learning Awards
Award Recipients:
Dr Sepanta Hosseinpourdougolsar (Dentistry)

Dr Kana Imuta (Psychology)

Dr Nicole Stormon (Dentistry)
Research Awards
Early Career Research Excellence Award
Award Recipients:
Dr Richard Bade (QAEHS)

Dr Danielle Kamato (Pharmacy)

Dr Jonathan Redshaw (Psychology)
Research Translation Award
Award Recipient:
Higher Degree Research Supervision Award
Award Recipient:
Dr Amirali Popat (Pharmacy)
Higher Degree Research – Excellence in Graduate Research Leadership Award
Award Recipient:
Associate Professor Ada Kritikos (Psychology)
Research Mentorship Award
Award Recipient:
Professor Derek Arnold (Psychology)
Professional Staff Awards
Customer Service Award
 Award Recipient:
Commendation
Leadership Award
Award Recipients:
Sarah Dahl (Dentistry)

Linda McConnell (Pharmacy)
Innovation Award
Above and Beyond Award
Annabella McHugh (Psychology & Dentistry)
Team Award
Placements Ready Team- Meagan Crabb, Paige Campbell, Sophie Challinor, Cha Kesuma, Rajna Barry, Lucy O'Shea

Research Team-

Sharon Doyle, Sandrine Kingston-Ducrot. Marion Carrett, Alisa Lindfield-Pratt, Brianne Mackinnon, John Bertram, Naomi Cooke, Bridget Moore, Jen Sodziak, Phoebe Coulon-McIntosh , Naomi Westwood, Sharon Hinton, Anil Naidu, Phil Smit, Tash Winters, Olivia Doonan.
Academic Awards 
Global Engagement Award
Academic Leadership Award
Professor Loc Do (Dentistry)