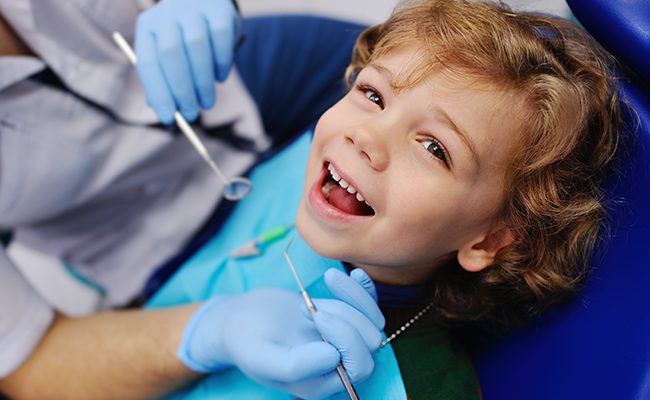 More children from low-income families are accessing dental services and having regular visits thanks to The Child Dental Benefit Schedule (CDBS), University of Queensland research has found.
Previous studies have reported severe underutilisation of the schedule since its implementation in 2014, with less than a third of eligible children claiming dental services in its first year.
By analysing data from the Longitudinal Study of Australian Children, Dr Nicole Stormon from UQ's School of Dentistry said there is evidence to suggest the CDBS' primary goal of improving access to care is in fact being met.
"This study differed from those previous, as it aimed to look at whether or not the policy objectives were being met," Dr Stormon said.
"We asked the question 'is the policy doing what was set as the primary goal?'- and whether the introduction of the scheme has improved children's access to dental services.
"Our research found approximately a third of four to five-year-old Australian children reported accessing dental services, and this increased with age with two-thirds aged 10 to 11 attending a dental service.
"In addition the introduction of the CDBS increased the rate of dental attendance for the low income household group by eight percent.
"This shows that the scheme's primary aims to improve access to care in the child population are being met.
"While access has improved however, the CDBS is underutilised so perhaps more promotion is needed to ensure eligible families are aware that they can access funding for dental services for their children."
The CDBS aims to improve access to services for children from low-income families and help them to develop good oral health habits early in life.
Through the scheme, eligible families can claim part or the full cost of some dental services for children.
Dr Stormon said that while the results showed an increase in access, there was still more that could be done through the CDBS particularly for Aboriginal and Torres Strait Islander children.
"Indigenous children had lower attendance rates than their non-Indigenous counterparts," Dr Stormon said.
"Funding policies such as the CDBS may not overcome other barriers, such as availability of culturally appropriate services.
"Tailored, culturally appropriate and evidence-based models of care that utilise the scheme are urgently needed and should be implemented."
In the most recent statutory review of the schedule, $1.4 billion worth of benefits was paid in the schedule.
The CDBS will undergo it's fifth statutory policy review this year.
Media: Dr Nicole Stormon, n.stormon@uq.edu.au; UQ Communications, Bridget Druery, b.druery@uq.edu.au, (+61) 435 221 246 @UQHealth.