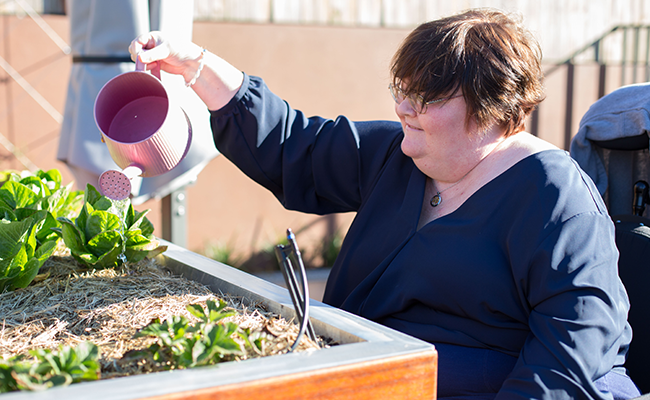 Researchers hope to reveal the mental health benefits of moving young adults with disability from aged care to independent living in a study from The University of Queensland and Youngcare. 
The three-year project is being funded by Youngcare, a national not-for-profit organisation revolutionising the way young people with high physical support needs live.
Supervising researcher Dr James Kirby from UQ's School of Psychology said the aim was to better understand how such a move affected a young person's mental health.  
"Appropriate housing is one of the greatest unmet needs for young people with disabilities in Australia, and many are left behind in aged care, hospital rooms or rehabilitation centres," Dr Kirby said.
"Our research aims to highlight how transitioning out of these facilities and into age-appropriate housing benefits their mental health.
"We hope our findings will inform government policies and create change, to ensure young people with high needs are receiving the support and dignity they deserve.
"I've always had a passion for mental health and being able to work in partnership with Youngcare to assist their incredible work is truly humbling."
Youngcare's support will give the research team access to resources including clinical psychologists and analysts.
This will help them design tailored interventions to measure the psychological and emotional state of young people with limited vocal and cognitive capacity during the transition process.
Youngcare CEO Greg Johnson said the partnership would help to change the disability housing sector and was crucial in ensuring young people with physical disabilities live fulfilled lives.  
"With 28,000 people with disabilities eventually being funded for Specialist Disability Accommodation, it is vital we, as a sector, understand how best to support them through their transition into appropriate housing.  
This research will help to inform Youngcare's work in creating age-appropriate and dignified homes for people with disabilities.
"This research will allow Youngcare to shape strategies into the future, influence Government policies and ultimately work towards our mission of ensuring all young people with disabilities can choose where they live, who they live with and how they live their lives."
The research will include a review of existing studies and an analysis of relevant literature on the topic.
The team is currently recruiting for a PhD candidate to lead the research. Expressions of interest can be directed to Dr Kirby at j.kirby@psy.uq.edu.au.
Media: UQ Communications, Bridget Druery, b.druery@uq.edu.au,+61 (0)435 221 246; Youngcare, Carolina Gadsby, CGadsby@youngcare.com.au, +61 (0)455 222 962.