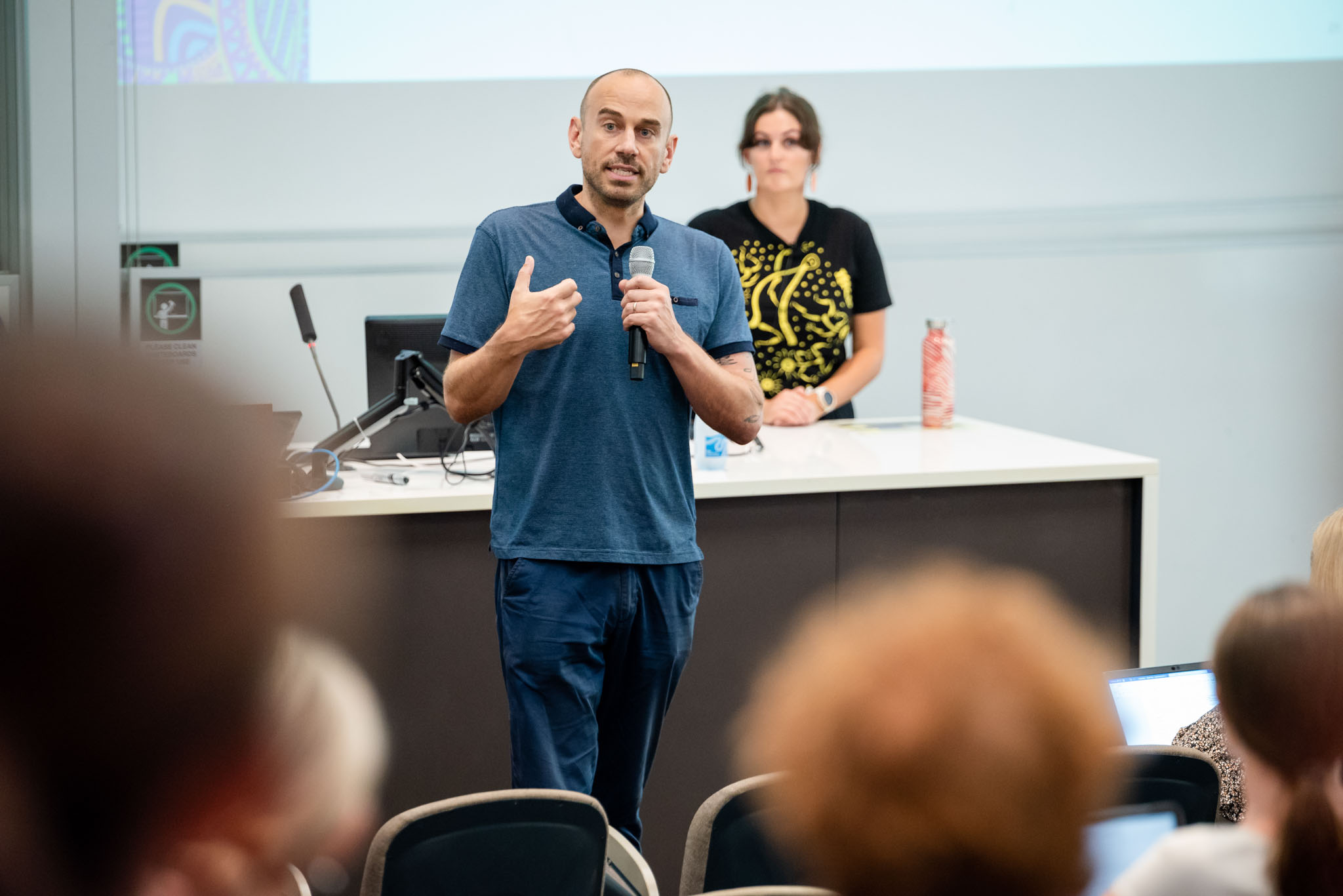 The importance of developing partnerships with Aboriginal and Torres Strait Islander peoples to co-design effective programs for Indigenous communities was the focus of the UQ Faculty of Health and Behavioural Sciences RAP Showcase - Close the Gap event last week.
HaBS RAP Showcase - Close the Gap MC Professor Louise Hickson AM said researchers from various disciplines across the Faculty highlighted how their work is contributing to improving health and wellbeing for Indigenous peoples.
"The informative and engaging presentations covered collaborative projects with Indigenous communities that spanned from the top of Queensland in the Torres Strait Islands to rural and remote areas including Yarrabah, Dalby and St George to urban areas in Brisbane," Professor Hickson said.
"We heard how each of the programs works to ensure Indigenous communities partnered with UQ researchers in the development of resources and services that genuinely meet their needs.
"Elevating Indigenous voices and utilising cultural protocols and knowledges through a process of co-design was essential.
"The topics covered linked with the National Close the Gap Day theme this year, 'Strong Culture, Strong Youth: Our Legacy, Our Future'."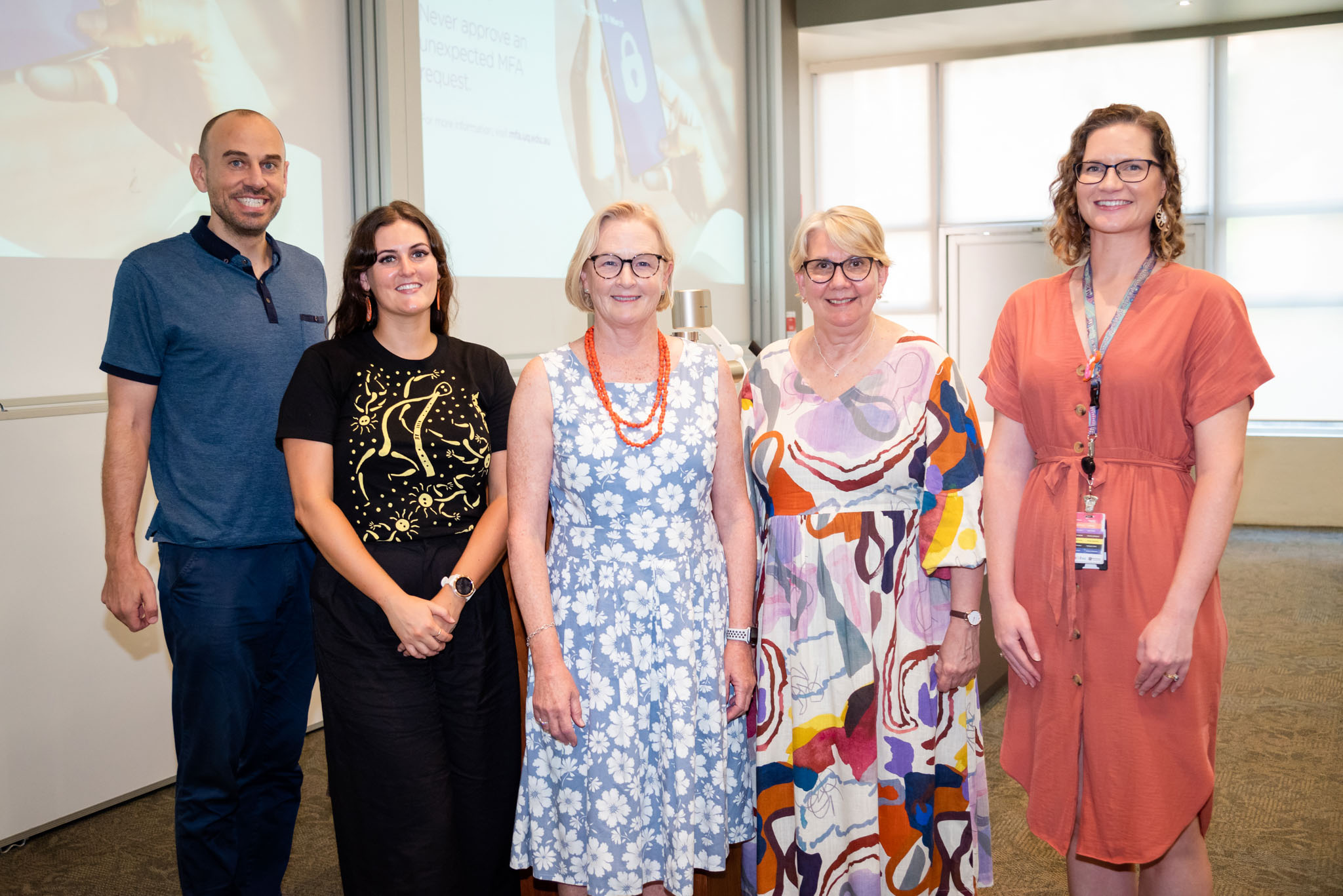 Presentations were delivered by:
Carl Francia, a Saibai Koedal clansman and Associate Lecturer at UQ's School of Health and Rehabilitation Sciences and Affiliate Associate Lecturer and PhD Scholar with the Poche Centre for Indigenous Health. Carl spoke about collaborations and partnerships with local communities in the remote outer islands of the Torres Strait. He shared insights and photos from his visit to the area and ongoing engagement with Mabuiag Island community and local health services.
Dr Keane Wheeler, a Ngarabal man and lecturer for UQ's School of Human Movement and Nutrition Sciences and Affiliate Lecturer for UQ's Poche Centre for Indigenous Health. Keane discussed how Aboriginal and Torres Strait Islander communities can co-design programs that engage communities in a range of sport and nutrition areas.
Emily Hall, a proud Wiradjuri woman and HDR candidate for UQ's School of Human Movement and Nutrition Sciences. Emily spoke about co-designing a movement-based program with the Yarrabah Aboriginal and Torres Strait Islander community.
Dr Hayley Williams, a Gamilaroi woman and postdoctoral research fellow for UQ's School of Psychology. Hayley shared processes and outcomes of a co-designed project, the Fire and Smoke translated study, which developed burn prevention and first aid resources with and for Aboriginal and Torres Strait Islander families.
Dr Sandra March, retired dentist and UQ School of Dentistry Academic Title Holder shared information and insights around rural Indigenous dental student clinical placements and the impact of clinical activities for the communities. She spoke about the UQ School of Dentistry partnership with Goondir Health Services in South-west Queensland to establish and then manage student-led dental clinics embedded within the Indigenous Health Service in Dalby and St George.
View the photo gallery from the HaBS RAP Showcase - Close the Gap event.