For my 10 week placement in my final year of Occupational Therapy, I was placed at the Toowoomba North Aged Care and Adult Rehabilitation (ACAR) ward. I was predominantly working with adults requiring rehab after a stroke or hip/knee replacement, however I also had the chance to work with patients with differing conditions such as brain injuries. What I enjoyed most about this placement was how much time I was able to spend with patients and how supported I felt by the OT team.
On the ACAR ward, the OT students were responsible for running the group therapy sessions. This included a Cooking Club, Upper Limb Therapy Group and a Cognitive Rehabilitation Group named 'Food for Thought'.
Most weeks, three out of five days would start with a Cooking Club. This gave patients the opportunity to return to the occupation of cooking and become more independent. My role was to encourage the patients to complete the tasks independently, assisting when required for safety or if prompting was required on what to do next. Cooking Club was also a great social opportunity for the patients and allowed us to get to know the patient better.
The Upper Limb Therapy Group 'Active Arms' was held five days a week. My role was to create treatment plans for patients, which involved goal setting with patients and conducting upper limb and self-care assessments to track progress. Once completed, we used this information to form activities for the patients to work towards reaching their goals. These activities ranged from weights to handwriting depending on the patient.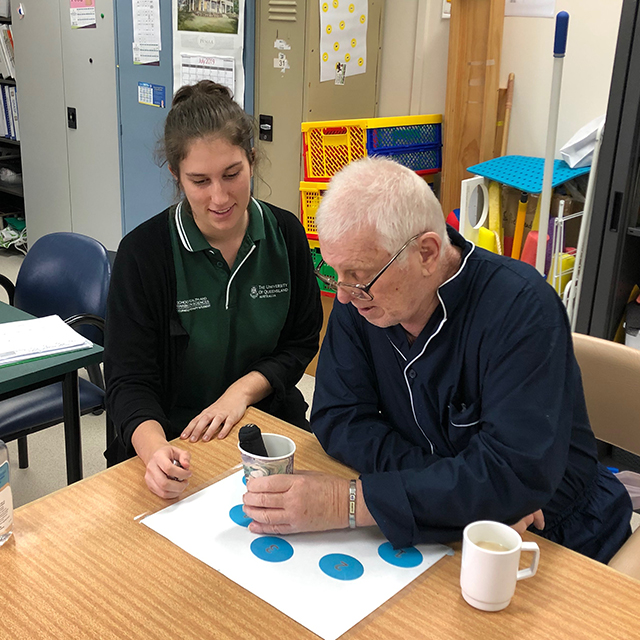 We also ran the 'Food for Thought' group which focused on cognitive rehabilitation. This group was an opportunity for patients to socialise, practice daily cognitive tasks required to return home and to reminisce. My role was responsible for selecting activities, completing daily orientation with the group members and leading or facilitating the group activity. This was one of my favourite activities, as it allowed us to get to know the patients really well and learn more about their lives.
During my placement, I was given the opportunity to observe my clinical educator conducting therapy sessions and assessments and was also able to conduct these myself.
The environment at the hospital was very supportive, inclusive and welcoming to students. I felt very supported by the multi-disciplinary team, particularly when I first presented at the case conference. They assisted me in building my confidence in my capabilities as an OT by encouraging me to participate in new experiences and further develop my knowledge of rehab.
As I am not from Toowoomba, I stayed in the student accommodation at the base hospital. I had an amazing time there! I met a wonderful bunch of students from a range of universities, studying a variety of courses. We would often meet in the common room at the end of the day to chat about our days, chill out and eat dinner together. Trips for ice-cream even in the cold Toowoomba weather and picnics in the many Toowoomba gardens were regular occurrences. The support these new friends provided was a wonderful bonus to my placement experience.
I would highly recommend a Toowoomba placement to anyone who is considering it. It was outside my comfort zone, but trying something different opened my eyes to new possibilities after university.