Designed to support students' learning in the Bachelor of Exercise and Sport Science and the Bachelor of Clinical Exercise Physiology, this placement opportunity allowed participants to improve their knowledge and understanding of cultural issues and diversity when prescribing exercise.
Working together as a team, the students were able to build meaningful relationships with the community, gain cross-cultural leadership and team work skills, and learn to address complex issues with a global perspective.
Students worked predominantly within one community, on an island called Hithadhoo which is the second largest settlement in the Maldives, situated in the Addu Atoll (southern-most atoll of the Maldives).
This trip was supported by the New Columbo Plan Mobility Program.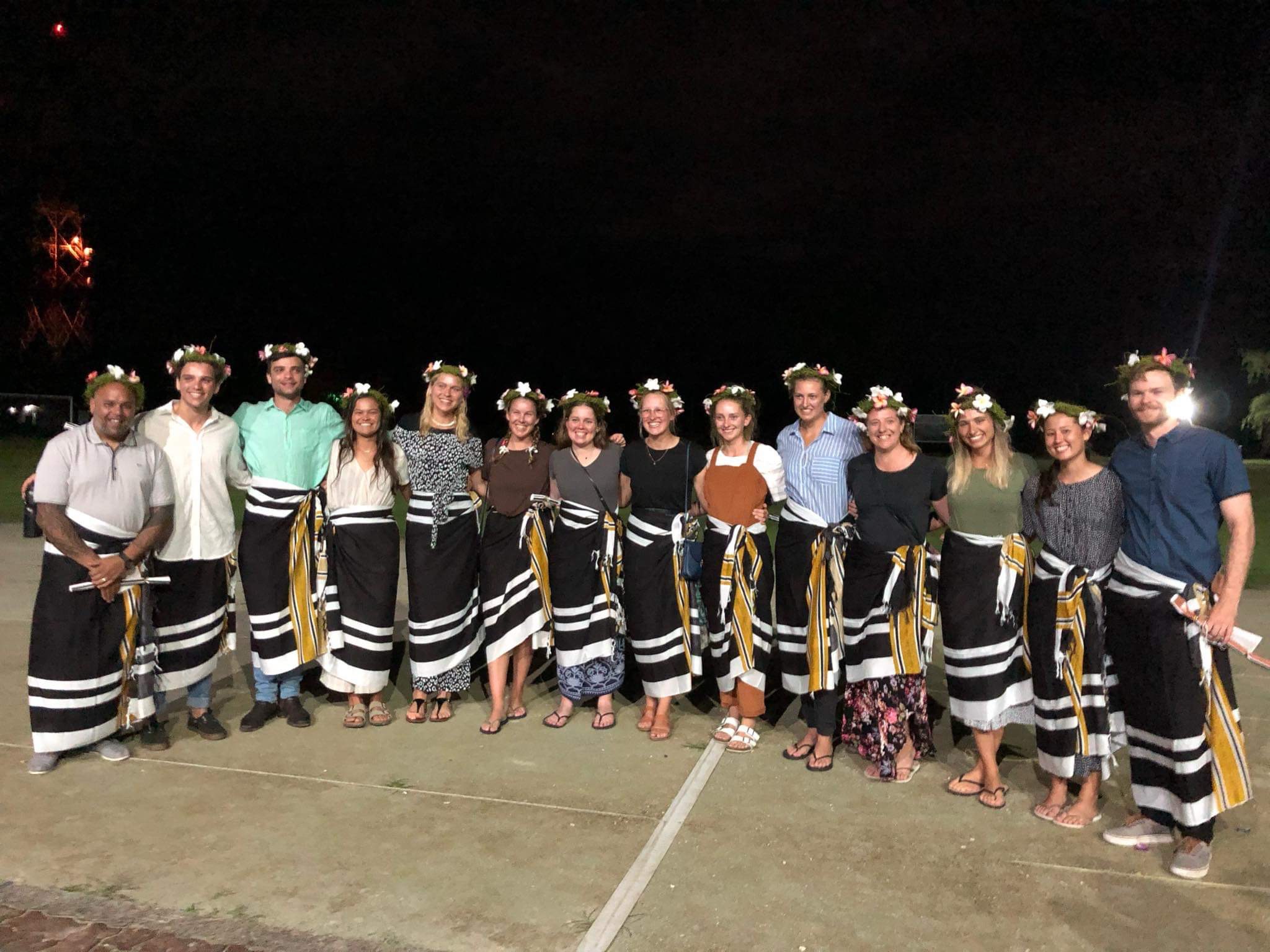 Q&A with Dr Emma Beckman, Senior Lecturer
What was the purpose of the trip?
This trip formed part of students' practicum placement to gain experience in prescribing and delivering exercise for people in the community. While this placement is often done in Brisbane at a local fitness centre or business, this was an opportunity for students to spend time overseas in a community very different from their own.
How did this experience benefit the students?
This placement presented challenges to the students such as working with people from culturally diverse backgrounds and religions, way of life and particularly working with people who speak English as a second language. These challenges develop skills such as empathy, adaptability, patience, and leadership skills as well as improving their exercise prescription skills - all in a place that can only be described as paradise.
How does it benefit the local community participants?
The participants were so grateful for the programs that the students ran, many of the women we worked with in the swimming sessions had never learnt to swim and were scared of the water so the program opened up a whole new world for them to experience. The children we worked with played new games, interacted with new people and were kept incredibly busy during the school holidays. After 3 weeks of learning to swim, the students took the women out to the nature reserve and went snorkelling. For many of the women, this was the first time in their lives (despite always living on the islands) that they have seen the magic of the reef and the beautiful coral and fish. Many of them were overwhelmed and so grateful for the help of the students.
What types of things did the students do on placement?
Students were kept very busy with their day starting at 6.30am with exercise sessions in the water. They then presented exercise and injury management workshops for coaches and athletes. After a break during the heat of the day where they reflected on the morning sessions and did some planning activities, students ran a sports and exercise program for children from 8-14 years of age. They prescribed and delivered game-based exercise, structured drills and strength and conditioning sessions with the children, as well as soccer and netball. They then ran outdoor bootcamp style circuit classes for women and personal training, either 1-1 or in small groups in a gym environment, finishing up after 7pm every night.
What experiences did the students have outside their placements?
While the weekdays were incredibly busy, the students had the opportunity on weekends to explore the local area, visiting incredible island resorts, snorkelling, swimming and relaxing. On one of the last nights, the local community surprised us with a huge BBQ with local food, activities, and dances.
Message from Suna Nasrulla (Community Partner)
I have been told by many of the women, that a simple 'thank you' does not fully justify the gratitude and love they have for you in their hearts and I couldn't agree more. One of the women said to me that she has many things to say to you all. I asked her why she didn't tell you herself. She said, 'My English not good enough to fully express my feelings. I will tell you in Dhivehi and please pass this on to them.'
She said, and I am translating here 'All of them are half my age or younger. I know how annoying it must be to have to repeat the same thing a hundred times. But the patience they showed with our scared hesitance and the encouragement is why I went back every day, despite the fact that it was hard and scary. I learned patience and resilience. I learned this from someone who is my daughter's age. I love it and will never forget this. I will forever remember them.'
So, when you are having a hard day, take a moment to remember; in a tiny corner of the world in the middle of the Indian Ocean there is a community of people who have nothing but love, respect and gratitude for you because you made a difference in their lives.
Q&A with student participant, Danielle
What were the highlights of your Maldives trip? Bonding with my peers, living in the community and learning about a new culture 
What was the most valuable takeaway you got from this experience? You have to be adaptable, because things don't always go to plan
What three words would you use to describe your experience? fun, rewarding, challenging
What will you miss most about the Maldives? I'll miss being around my peers all the time and being part of the Hithadhoo community.
Q&A with student participant, Ashley
What were the highlights of your Maldives trip? Being able to build such incredible relationships with the participants of our sessions and see them develop their skills and fitness in the short time we spent with them 
What was the most valuable takeaway you got from this experience? When you have an amazing team around you, all working towards a common goal and sharing similar views on a topic, it can make work not feel like work and you can really appreciate everything the experience has to offer
What three words would you use to describe your experience? Beautiful, eye-opening, rewarding
What will you miss most about the Maldives? The locals, the food, the water!