It's World Salt Awareness Week – a week to draw attention to just how much salt is hidden in the food you buy every day. Actually, it's a truly shocking amount.
Food companies add salt to bread, cheese, processed meat, cakes, even breakfast cereal. Little wonder we have a huge salt-related health crisis hiding right in front of our noses.
What is salt and how much do I need?
Salt is made up of sodium and chlorine. Your kidneys control your blood levels of sodium, but too much sodium in your diet can make your kidneys work harder and lead to high blood pressure.
Australians on average eat above the sodium recommendations of less than 2000mg per day, which aims to prevent chronic disease risk due to the relationship between sodium and high blood pressure.
Therefore salt and other sodium-containing ingredients have to be listed on the ingredients list on food packaging and the total sodium content on the nutrition information panel (NIP).
Foods high in salt
Most of the sodium in our diets comes from processed foods, such as bread, packaged snack foods, tinned or canned foods, cheese, processed meats and sauces.
Takeaway and restaurant meals can also often be high in sodium, particularly foods you regularly see around campus – burgers, pizza, pasta and noodles.
Tips on how to reduce daily salt intake:
1. Choose foods that are low in salt by checking their food labels – look for packaged foods that are labelled "no added salt" or read the NIP and choose foods that contain less than 120mg of sodium per 100g.
2. If you want to compare different brands of the same food, choose the brand that has the lowest amount of sodium per 100g.
3. In the ingredients list, look out for names of other high sodium ingredients: baking powder, celery salt, garlic salt, meat/yeast extract, monosodium glutamate, (MSG), onion salt, rock salt, sea salt, sodium, sodium ascorbate, sodium bicarbonate, sodium nitrate/nitrite, stock cubes and vegetable salt.
4. Also in the ingredients list, added salt or other high sodium ingredients should ideally not appear in the top three ingredients on the ingredients list.
5. Do not add salt to your meals at home – instead use pepper, dried or fresh herbs, spices, garlic, onion or ginger to flavour your meals. Marinate meat, fish or tofu in these low sodium flavourings prior to cooking.
6. Swap processed meats (ham, salami, sausages) for eggs, low sodium tinned fish or chicken for a low salt protein source.
7. Swap salty snacks (crackers, chips, pretzels) for corn thins, unsalted popcorn, unsalted nuts or vegetable sticks with dip.
8. Dress salads or vegetables with homemade dressings of olive oil, balsamic vinegar or lemon juice without adding salt or high salt dressings. My favourite salad dressing is olive oil, honey and balsamic vinegar.
9. Bring a packed lunch instead of buying takeaway and restaurant meals, so you know how much salt is in the food you are eating. A homemade pizza made with low sodium ingredients will contain a lot less salt than a takeaway pizza.
10. However if you do need to buy food on campus, check out the UQ fresh food dining guide.
Gradually reduce high sodium foods from your diet and you will give your tastebuds the opportunity to adjust in just a few weeks.
For a low sodium homemade pizza, check out the recipe below for a Quick Veggie Pizza from the Queensland Government's Healthier. Happier website - this recipe contains 307mg sodium per serve and 90mg sodium per 100g.
Quick Veggie Pizza
Serves 4
Ingredients:
☐ 4 small wholemeal pita breads
☐ 1 teaspoon olive oil
☐ 3 medium Capsicum, (red, green and yellow), chopped
☐ 1/2 small red onion, diced
☐ 1 cup button mushroom, sliced
☐ 1 teaspoon dried Oregano
☐ 1 cup canned crushed tomatoes
☐ 2 tablespoons parmesan cheese, finely grated
☐ 1 teaspoon sweet paprika
Method:
1. Preheat oven to 200 °C and position rack in middle of the oven.
2. Heat large non-stick frypan, brushed with olive oil and add onion, herbs and capsicums. Cook until soft and slightly charred about 10 minutes.
3. Add the mushrooms and cook for 2-3 minutes. Set vegetables aside.
4. Mix tomatoes with herbs in a small bowl.
5. Place pita breads on baking paper lined oven tray, smooth spoonfuls of tomato sauce over base, sprinkle with half the parmesan and then arrange grilled vegetables in a single layer over the sauce.
6. Bake in oven for 10 minutes until edges of pita are crispy.
7. Serve with sprinkling of the remaining parmesan, oregano and sweet paprika, cut into slices.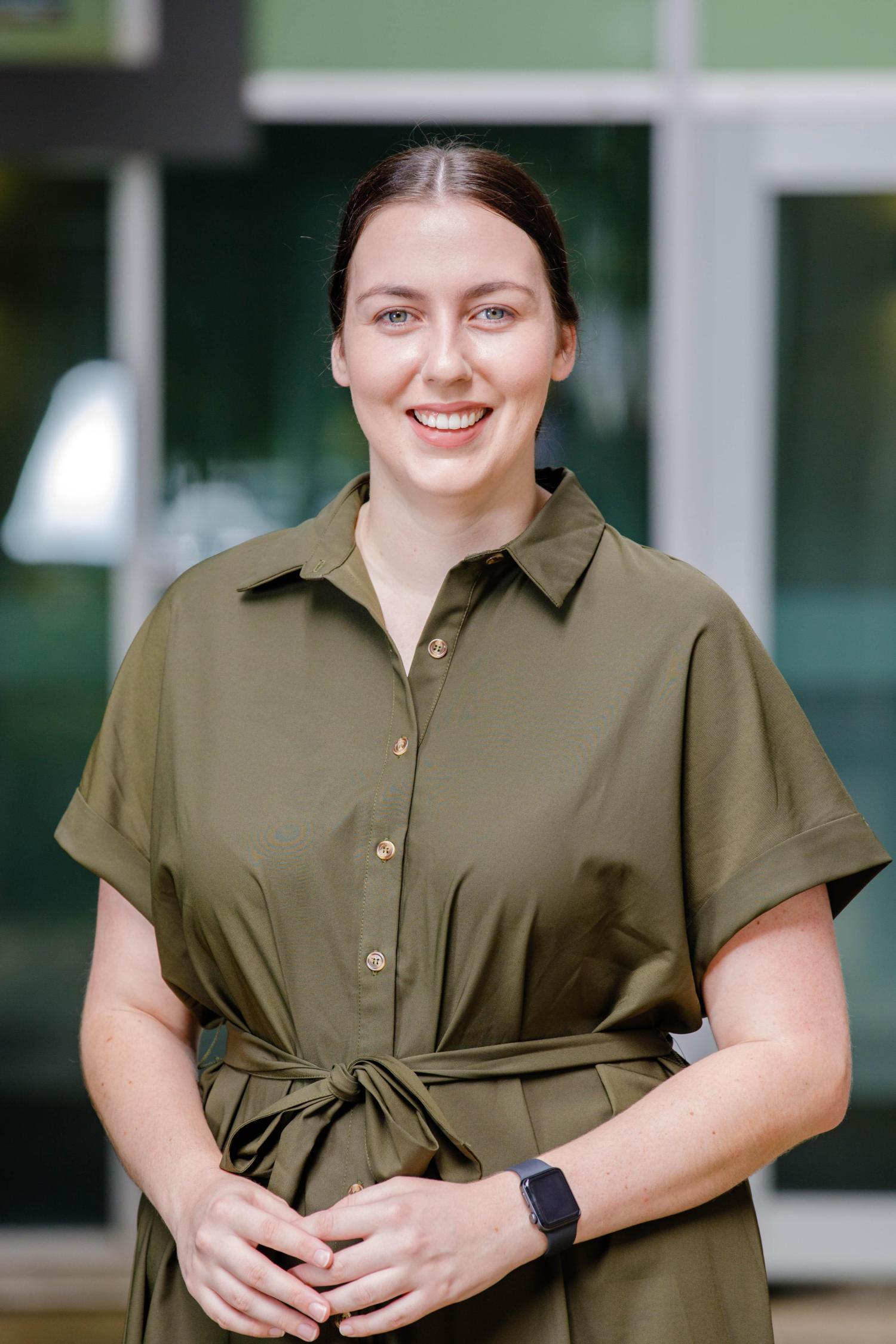 Q&A with Danielle:
1. Why did you study dietetics?
I chose to study dietetics because it combined my love of food with my interest in science, particularly physiology and biochemistry.
2. What are you doing now?
I am currently a PhD Candidate researching the sustainability of food fortification strategies within the foodservice systems of aged care homes.
3. How did you get here?
I studied a Bachelor of Nutrition Science (QUT) and then applied for the Master of Dietetics Studies (UQ).
4. What is your favourite salty snack?
Smith's salt & vinegar chips.