The nursing students and staff who travelled to Nepal experienced an unforgettable month of rich cultural immersion and spectacular natural scenery. Clinical placement was undertaken in the historical city of Thimi. For the initial placement, nursing students shared health education with local secondary, primary and kindergarten school children. In contrast, the final placement was in the more familiar context of a dynamic city hospital.  Each setting required distinctive nursing skills. The nursing students drew on their creativity, resourcefulness and know-how to gain meaningful learning. They were enthusiastically supported in this through the generosity and encouragement of school and hospital staff. Our gracious hosts during placement were Surendra Bikram Prajapati (Founding Principal) of the Vinayak Shiksha Niketan English Secondary School, and at Madhyapur Hospital: Gyan Krishna Shrestha (Chairman) and Matron Ganga Karanjit. We were very fortunate to be provided comfortable lodgings in Vinayak School which allowed us to experience authentic community life first-hand.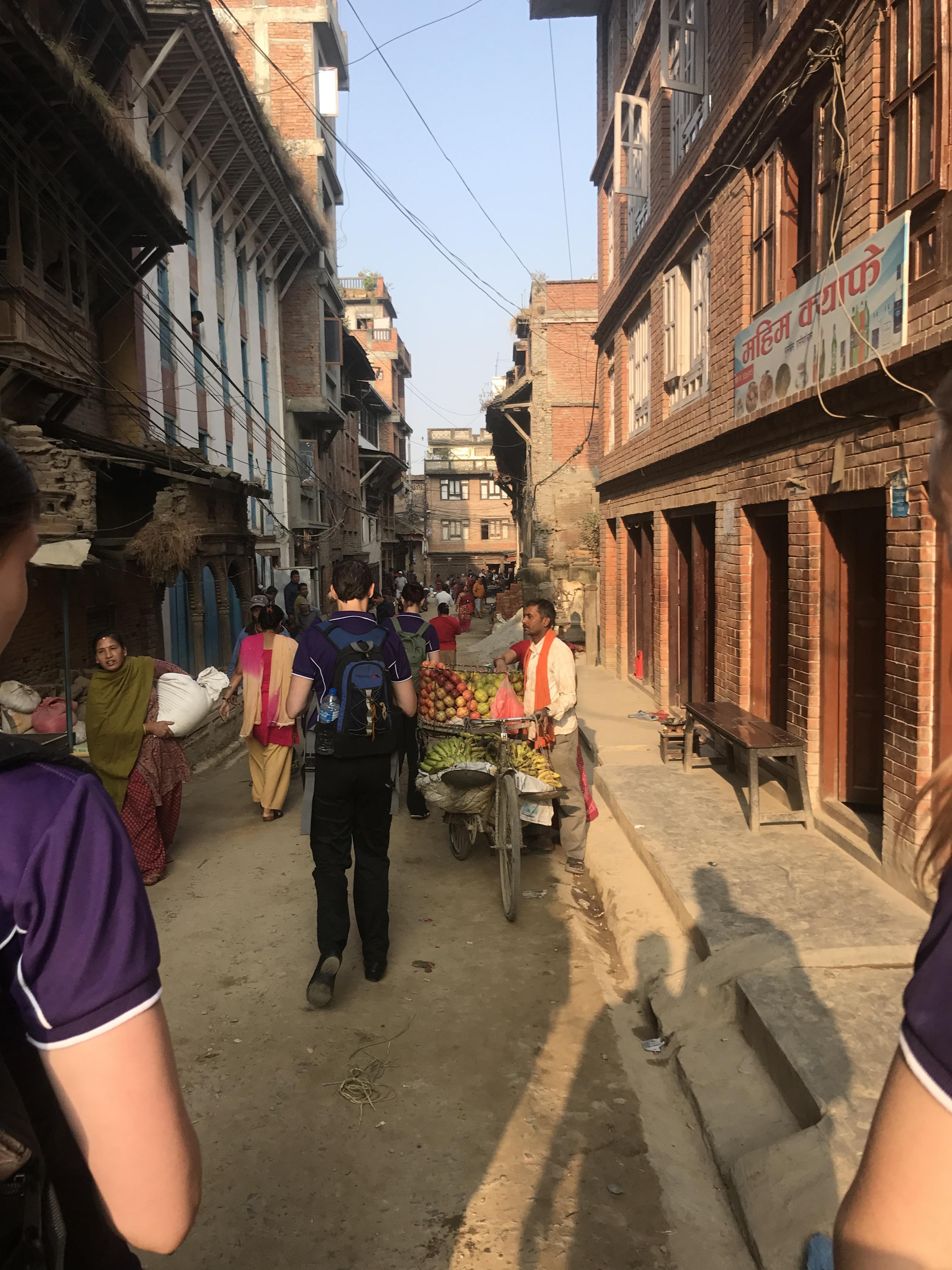 Each day in Thimi we were reminded of the city's rich cultural heritage and history and how this infuses its modern occupants' identity and character. Our day in Thimi began just after sunrise with the crow of roosters and the hum of nearby residents delivering fruit, flower and grain offerings to the ancient temples. Nepal is renowned for its hospitality, and Nepalese people show their visitors great regard. Our hardworking cook greeted us daily with a delicious breakfast of eggs, toast and sweet tea and at night introduced us to mouth-watering Nepali cuisine. On several occasions, we were also privileged dinner guests at Surendra's family home, even celebrating his daughter's birthday and previewing Dashain Festival with specialty foods and receiving gifts. The school staff entertained us at a local restaurant, teaching us a traditional song and sharing more songs, stories and the fascinating history of Thimi. The city dates from 3000 B.C. and it was easy to lose track of time wandering through the labyrinth of paved laneways, across communal courtyards, exploring ornamental stupas and carved wooden pagodas. During our early morning walk to placement we were fortunate to experience how present day mixes with the ancient architecture, and we were absorbed into neighbourhood life with pressed-palm namastes and friendly smiles. The bustling city squares and welcoming shop fronts with their array of services and produce provide a catalyst for the important everyday social interactions of locals.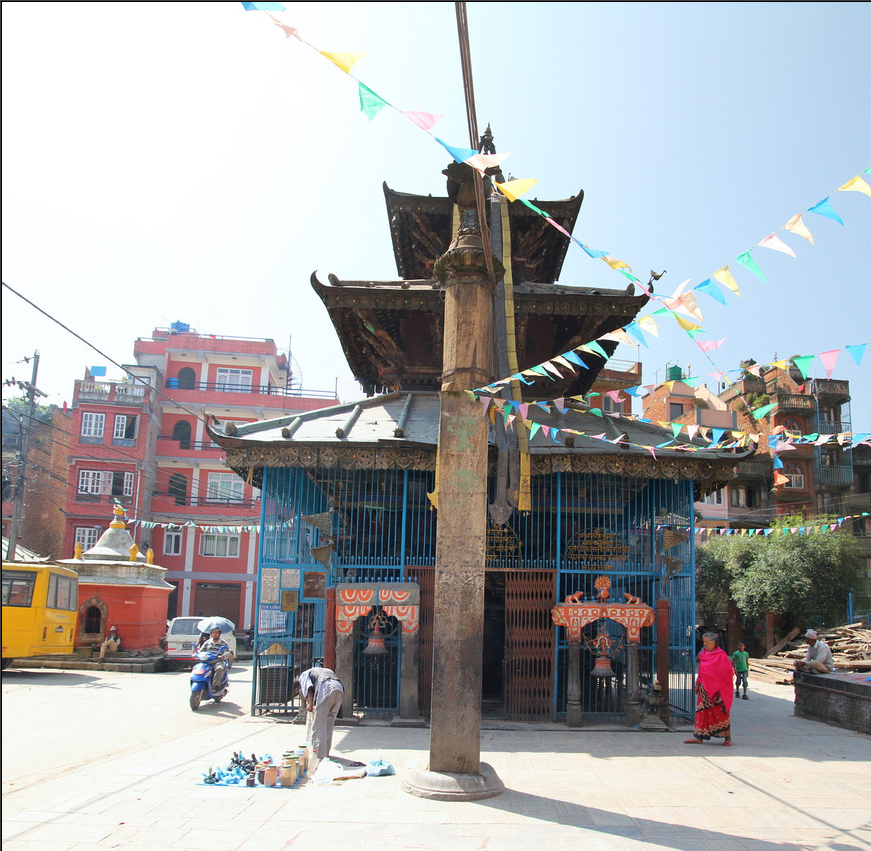 The nursing students conducted health education in three schools, each with a different focus. In the kindergarten, the children were introduced to Australian animals, language and stories through colouring in and games. Many of their parents work long hours for basic wages by hand-stitching and knotting carpets in neighbouring factories. Hardship is commonplace for these young children, with several homeless and some orphaned following the catastrophic 2015 earthquake. The dedicated staff are determined to provide a safe environment and education which lends promise to these children's future. In the primary school children enjoyed learning about Australia, and were taught basic health safeguards such as hand hygiene, cough and sneeze etiquette, and teeth brushing. Lastly, at the request of the progressive Vinayak School Board, secondary schoolgirls were involved in discussion and education about women's menstrual health and hygiene management. Despite the Nepalese government banning Chhaupadi in 2005, the long held taboos and stigma persist. This brings severe health impacts including social isolation, limited food and water access, exposure to infection, injury due to snakes or wildlife, and assault. These sessions generated a lot of questions and interest. The nursing students also distributed 191 women's hygiene kits which they had assembled from donated items.
The Madhyapur Hospital placement exposed nursing students to learning about inpatient care in Nepal including common ailments and the treatments provided. There were a number of familiar conditions including chronic respiratory diseases, fractures due to traffic accidents and diabetes-related illness.  There were also illnesses seen less often in Brisbane particularly those associated with unsafe water and sanitation and hygiene restrictions. The nursing and medical staff were supportive in explaining procedures and conditions and also in allowing students to attend surgical procedures. The hospital experience extended our existing knowledge through rotations in busy specialty areas including emergency department, intensive care unit, and operating theatre. Students observed the skill of surgeons, anaesthetists and theatre nurses during complex procedures, such as emergency management of ectopic pregnancy, spinal decompression and fusion, and cochlear implant.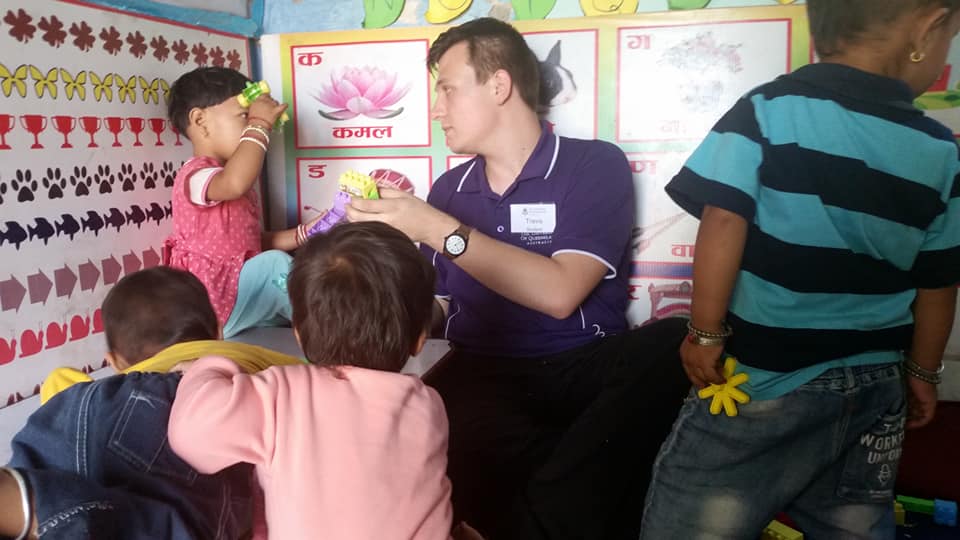 In the emergency department, nursing students gave hands-on care to patients assisting with skeletal traction and fracture reduction and splinting. In the medical ward students undertook patient assessments, while in the gynaecology and postnatal ward the dual degree students enlisted their midwifery knowledge to provide education to new mothers. The surgical unit offered a diverse patient population and allowed for the application of knowledge from classroom simulations through participating in blood transfusion procedures.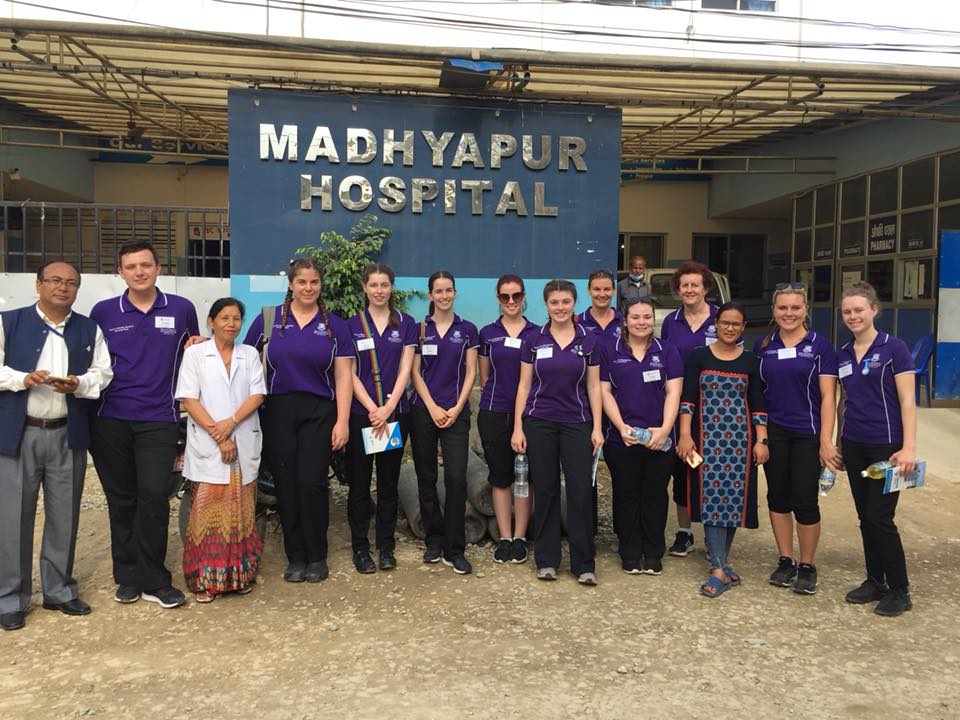 As well as these wonderful learning opportunities we were fortunate to explore some of Nepal and to enjoy its spectacular mountain scenery. Naturally, as the highest mountain range in the world, the Himalayas are the dramatic backdrop of every view in Nepal. There were many activities undertaken to make the most of this natural beauty. From Kathmandu a large group took an early morning Mt Everest scenic flight. This was a spectacular highlight with the tiny aircraft skirting four of the six highest mountains on Earth. From Nagarkot Point Tower we watched the sunrise illuminate the peaks of Mt Everest and surrounding Himalayas with a golden glow. The group undertook a guided tour of important cultural sites including Swayambhunath (Monkey Temple), Bhaktapur and Pashupatinath Temple to gain an important insight into the Nepali traditions and values. Our final travel destination was Pokhara where we relaxed in the stunning lakeside city and took in the views of the snow-capped mountains and World Peace Pagoda. Overall, through this placement and visit, we gained exceptional learning and a greater appreciation of the richness and strengths of the people of Nepal and the beauty of their country.