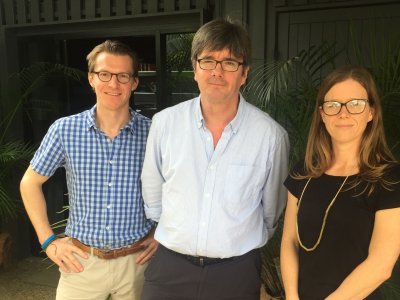 A team of organisational psychologists from The University of Queensland has been recognised for their ground-breaking leadership development program.
Professor Alex Haslam and Doctors Nik Steffens and Kim Peters from the UQ School of Psychology won the Leadership Development and Coaching category at the 2017 Australian Psychological Society (APS) Workplace Excellence Awards.
The team created a framework for leader education and development, called the 5R Program, that highlights the importance of shared social identity for leadership.
Professor Bruce Abernethy, Executive Dean of the Faculty of Health and Behavioural Sciences, said the winning team is a shining example of the theory they have based their program upon.
"In the workplace, the shared identity of team members ensures a positive outcome for both an organisation and its employees," Professor Abernethy said.
"This is something that leaders like Professor Haslam encourage by creating, representing, advancing, and embedding a sense of shared social identity with their teams.
"This is not only evident in the success of the team in winning this award, but also in their practical applications of the program with multiple industry partners."
Over the last five years more than 200 leaders have participated in the 5R Program, at organisations including Workplace Health and Safety Queensland, Metro North Hospital and Health Services, The Sunshine Coast Hospital, and South East Queensland Water.
Professor Haslam said his team are working on a range of projects with organisations that strive to improve performance and well-being by helping leaders to build shared identity within their teams.
"Identity leadership that helps to build a sense of 'us-ness' is what allows teams to harness the transformative power of their coordinated energies," he said.
"By showing how leaders can help to craft and advance this 'sense of us' the 5R Program translates insights from social identity theorising into a structured intervention that has been shown to deliver tangible practical benefits."
The APS Workplace Excellence Awards–an initiative of the APS College of Organisational Psychologists–celebrate exceptional achievement and innovation in the application of psychological principles in the workplace.
The category of Leadership, Development and Coaching recognises excellence in the application of psychology using effective interventions to improve leadership performance.
The team from UQ, in conjunction with colleagues Devi Gopinathan and Blake McMillan, was recognised alongside fellow finalists Hudson Talent Management & Queensland Department of Health for the Next Generation Executive Leaders Program, and Metro Trains Melbourne's Signature Leadership Program.
"It is clear that all the finalists shared the goal of improving the science of leadership training," Professor Haslam said.
"This was really good to see, as this science is sorely needed — not only in Australia but around the world."
Media: Professor Alex Haslam, a.haslam@uq.edu.au, +61 7 3346 7345; Dani Nash, UQ Communications, dani.nash@uq.edu.au, +61 7 3346 3035.