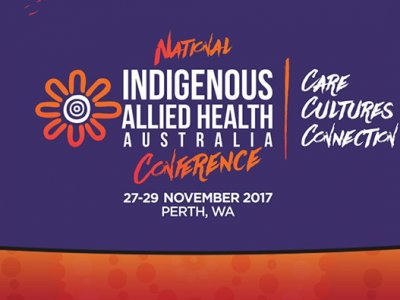 A group of four students from The University of Queensland have been selected to attend the National Indigenous Allied Health Australia (IAHA) Conference under a sponsorship arrangement supported by UQ's Faculty of Health and Behavioural Sciences, and the UQ Poche Centre for Indigenous Health.
Victoria Francia (Bachelor of Physiotherapy), Alicia Allen (Bachelor of Clinical Exercise Physiology), Annika David (Bachelor of Psychological Science), and Gabriella Ceolin (Bachelor of Science) will travel to Scarborough Beach near Perth in Western Australia where the conference is set to take place from 24-29 November.
IAHA is a national not-for-profit, member based Aboriginal and Torres Strait Islander allied health organisation, providing workforce development and support to improve the health and wellbeing of Aboriginal and Torres Strait Islander peoples.
The National IAHA Conference provides an inclusive platform for people working in health, education, government, community, disability, aged care and mental health to collaborate, connect and draw on Aboriginal and Torres Strait Islander knowledge and perspectives.
The conference includes the IAHA HealthFusion Team Challenge, a fun and interactive learning experience for Aboriginal and Torres Strait Islander health students, designed to educate the nation's next generation of health care professionals in collaborative client care.
Under the guidance of a professional mentor, students will be assigned an inter-professional team and be given a complex patient care case, for which they'll need to develop a treatment management plan to present to the judging panel before two teams are chosen for the final.
Ms Alicia Allen, Clinical Exercise Physiology student said that without the UQ sponsorship, she would not have been in a position to travel to Perth for the event.
"I am really excited to network with fellow Indigenous students, and to have the opportunity to put my knowledge and skills to the test in a practical environment," Ms Allen said.
"I am due to graduate this semester and have more than 600 hours of experience working with a variety of patients with cardio metabolic, pulmonary, musculoskeletal, neurological and mental health conditions in both rural and metropolitan area.
"I can't wait to apply this knowledge and experience to the team challenge."
Associate Professor Murray Phillips, Director of the UQ Poche Centre for Indigenous Health said that it is wonderful to see such a strong interest from UQ students wanting to participate in the event.
"This is a great opportunity for students to be involved in a national event and collaborate with professionals and students from a range of health professions," Associate Professor Phillips said.
A total of 40 students from 15 universities will take part in this year's team challenge that will provide participants with a unique opportunity to grow their professional network and get noticed by potential employers before they graduate.
Media: Rachel Bastin, UQ Poche Centre, r.bastin@uq.edu.au +61 73443 1678, or Jo Hickman, UQ Communications jo.hickman@uq.edu.au +61 73346 3037