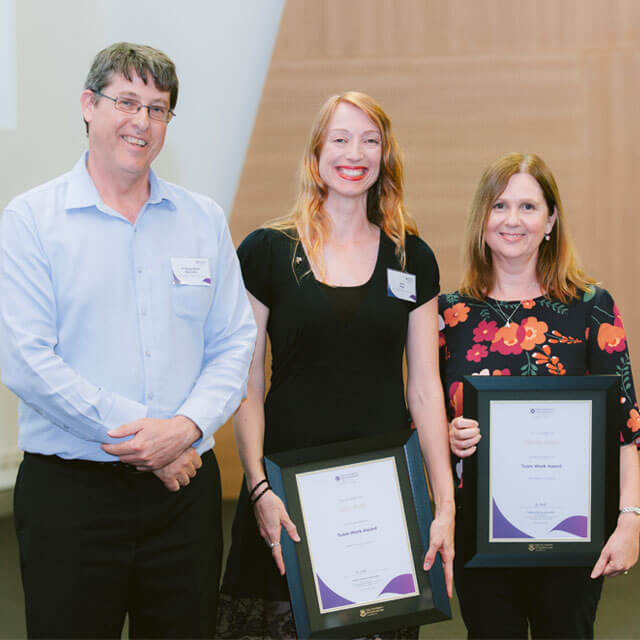 Thanks to the community of highly committed staff at UQ's Faculty of Health and Behavioural Sciences, the Faculty has an international reputation as a leader in health and behavioural sciences education and research.
The 2018 Faculty of Health and Behavioural Sciences Awards this week celebrated the outstanding work of academic, research and professional staff.
The ceremony was presented by Faculty Executive Dean Professor Bruce Abernethy, Associate Dean (Research) Professor Christina Lee, Dr Louise McCuaig of the School of Human Movement and Nutrition Sciences and representative of the Faculty Teaching and Learning Committee, and Faculty Executive Manager, Tricia Williams.
Executive Dean Professor Bruce Abernethy thanked all staff for their hard work and commitment that has contributed to the success of the Faculty.
"This is an important event to recognise all HaBS staff who work across the six schools and six faculty centres who contribute to the operational and strategic endeavours of the university," Professor Abernethy said.
"It is always a pleasure to read through the nominations as they bring to light the ways staff go 'above and beyond' in their everyday roles.
 "Congratulations to all the very worthy award recipients."
---
Teaching and Learning Awards
Tutor and Demonstrator Award
Commendations:
• Frankie Tze Kiet Fong (School of Psychology)
• Naomi Hansar (School of Nursing, Midwifery and Social Work)
Award recipients:
• Kirsten Adlard (School of Human Movement and Nutrition Sciences)
• Logan Wade (School of Human Movement and Nutrition Sciences)
• Chih Yuan Wang (School of Pharmacy)
Citation for Outstanding Contribution to Student Learning
Commendation:
• Dr Norman Ng (Faculty of Health and Behavioural Sciences)
Award recipients:
• Tim Barlott (School of Health and Rehabilitation Sciences)
• Adriana Penman (School of Health and Rehabilitation Sciences)
Teaching Excellence Award
Commendation:
• Dr Eric Vanman (School of Psychology)
Award recipients:
• Dr Emma Bartle (School of Dentistry)
• Dr Tanya Rose (School of Health and Rehabilitation Sciences)
---
Academic Awards
Academic Leadership Award
Recipients:
• Professor Jolanda Jetten  (School of Psychology)
• Associate Professor Guy Wallis (School of Human Movement and Nutrition Sciences)
Global Engagement Award
Recipient:
• Alison Bourke (School of Nursing, Midwifery and Social Work)
---
Research Awards
Early Career Research Excellence Award
Recipients:
• Dr Amirali Popat (School of Pharmacy)
• Dr Shelley Keating (School of Human Movement and Nutrition Sciences)
Research Translation Award
Recipients:
• Associate Professor Stephanie Hanrahan (School of Human Movement and Nutrition Sciences)
• Associate Professor Jason Tangen (School of Psychology)
Research Mentorship Award
Recipient:
• Associate Professor Paul Dux (School of Psychology)
Higher Degree Research Supervision Award
Recipients:
• Associate Professor Jodie Copley (School of Health and Rehabilitation Sciences)
• Associate Professor Guy Wallis (School of Human Movement and Nutrition Sciences)
---
Professional Staff Awards
Customer Service Award
Recipient:
• Julia Harris (Faculty of Health and Behavioural Sciences)
Leadership Award
Commendation:
• Anne Tobin (Faculty of Health and Behavioural Sciences)
Recipient:
• David Soares Batalha da Silva (School of Health and Rehabilitation Sciences)
Above and Beyond Award
Commendation:
• Stacey Collie (School of Pharmacy)
Recipient:
• Sarah Dahl (School of Dentistry)
Team Work Award
Commendation:
• Student and Academic Administration Team: Laura Misiak and Carol Jang (School of Dentistry) 
Recipients:
• Research Team: Alisa Pratt, Sharon Doyle (Faculty of Health and Behavioural Sciences)