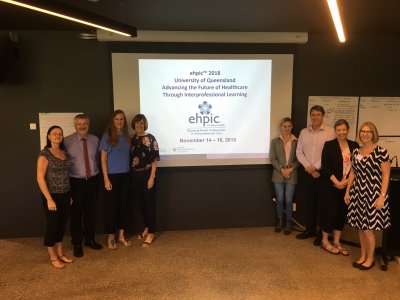 A team of international experts from the University of Toronto, in partnership with staff from The University of Queensland, upskilled health professionals across the Brisbane, Darling Downs and South West regions in interprofessional collaboration.
UQ's Faculty of Health and Behavioural Sciences in collaboration with Southern Queensland Rural Health(SQRH) hosted a team from the University of Toronto's Centre for Interprofessional Education to deliver three workshops in Brisbane, Toowoomba and Roma.
Faculty Executive Dean Professor Bruce Abernethy said the workshops were part of the Faculty strategy to work with health service providers to build on current collaborative models in education and practice.
 "We look forward to seeing the outcomes from the group both at UQ to broaden interprofessional education initiatives and in partner organisations in terms of strengthening interprofessional learning and practice," Professor Abernethy said.
Workshop participants commented that they enjoyed the blend of theory and highly practical tools that clearly linked to both evidence and practice, and the opportunity to learn from and network with other health professionals.
EHPIC provides interprofessional education and practice knowledge and strategies that enable nurses, doctors and allied health professionals to have a greater understanding of each other's role to improve overall communication which in turn brings improved health outcomes.
The University of Toronto, Centre for Interprofessional Education has a strong history of expertise in interprofessional learning and collaboration principles and practices to support leadership and curriculum development.
The three workshops were customised to each audience with a clear emphasis on rural healthcare delivery for the Roma and Toowoomba workshops.
Attendees included UQ academic staff and relevant staff from partner healthcare organisations including Metro North, Metro South, Mater, Children's Health Queensland, West Moreton, Institute for Urban Indigenous Health, UQ Healthcare, and The Wesley.
SQRH Director Associate Professor Geoff Argus said the workshops were a valuable opportunity for rural health professionals to change the health training landscape.
"It's critical that this type of training is provided to rural and remote areas, so we were very pleased with the number of staff from these areas who participated.
"Staff were encouraged and supported to attend EHPIC to gain invaluable knowledge and skills they can now implement in their organisations.
"This is a great example of how universities, hospitals and health partners can work together to improve health outcomes."
Interprofessional collaboration in education and practice is recognised by the World Health Organization (WHO) as an innovative strategy to mitigate some of the global health challenges such as the shortage of healthcare professionals and increasing healthcare costs.
Media: UQ Communications Kirsten O'Leary, kirsten.oleary@uq.edu.au, +61 7 3365 7436.