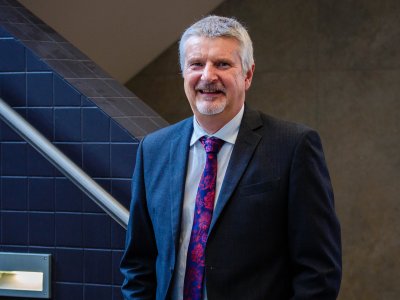 UQ's Faculty of Health and Behavioural Sciences has appointed Associate Professor Neil Cottrell as Director for Interprofessional Education.
Currently a researcher and lecturer in UQ's School of Pharmacy, Associate Professor Cottrell's vision is for the health industry to recognise HaBS students as equipped and ready for interprofessional practice (IPP) when they graduate.
"For new graduates to work effectively in collaborative practice in the healthcare system, interprofessional education activities that build the skills necessary to work in high functioning teams need to be included in curricula," Associate Professor Cottrell said.
 "My initial focus will be to map out what is currently happening in the IPE space as there are some really good activities in place and it is important that we embrace and link with these activities.
"The next steps will be to implement a series of IPE learning activities that students have in their ePortfolios that clearly link to interprofessional competencies such as role clarification, team functioning, value and ethics, communication, conflict resolution and collaborative leadership.
"In parallel with these activities I would like to see a suite of training programs for IPE facilitation within UQ and at placement sites so that we build capacity in our IPE teachers."
UQ's Faculty of Health and Behavioural Sciences has the largest offering of health courses in Queensland, which provides the opportunity for students to work collaboratively with over 20 health disciplines including physiotherapy, nursing, clinical exercise physiology, dental science, pharmacy and psychology.
Faculty Executive Dean Professor Bruce Abernethy said the appointment demonstrated the Faculty's commitment to strengthening the skills and experience students obtain in interprofessional education and practice.
"We are delighted to appoint someone of Associate Professor Cottrell's calibre and experience into this pivotal role for the Faculty," Professor Abernethy said.
"As a leading practitioner and academic his experience leading a number of multidisciplinary teams and more recently the curriculum design, implementation and evaluation of the IPE curriculum at the UQ Greenslopes Clinical School ideally positions him to excel this important area for the Faculty."
Associate Professor Cottrell is a registered pharmacist in Australia with a Masters in clinical pharmacy and PhD from UQ.
He joined UQ's School of Pharmacy in September 2001 as a senior lecturer.
Prior to his appointment at the university, Neil was a hospital pharmacist with extensive experience managing clinical pharmacy services in teaching hospitals in England.
He has experience in interprofessional practice on general medical, renal, geriatric, cardiac, endocrinology and intensive care wards and also held conjoint appointments with Aston and Manchester Universities.
In 1998 Neil moved to Australia where he was appointed as the Assistant Director of Pharmacy at the Royal Brisbane Hospital and as an adjunct appointment as a clinical senior lecturer in the School of Pharmacy.
Associate Professor Cottrell will begin the appointment in January 2019.