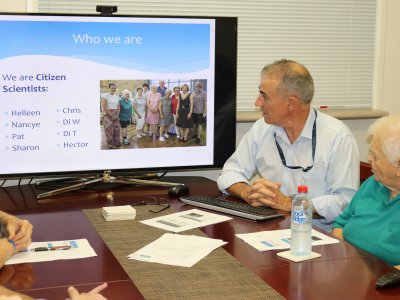 Older citizen scientists have shown how powerful their voice is in advocating change to their local environment in a study led by University of Queensland researchers.
A team of senior citizen scientists from Bernie Brae, Queensland's largest over 50s centre, partnered with UQ researchers to identify hazards and suggest improvements using smart technology.
Dr Anthony Tuckett from UQ's School of Nursing, Midwifery and Social Work said the study successfully demonstrated how older people can use citizen science and the Stanford University 'Our Voice'framework to influence positive change.
 "The participants aged 65 years and older focused on three areas that directly impacted how they safely moved around the centre and their immediate neighbourhood including parks and playgrounds, footpaths, and traffic related safety and parking," Dr Tuckett said.
"Using the 'Discovery Tool' application the citizen scientists captured geocoded digital photos and audio narratives to record features they liked, suggest changes and solutions to bring about these changes.
"The group then provided this feedback to Burnie Brae executive, public officials, administrators and government organisations."
Some of the issues and hazards that were identified included damaged footpaths, a sleeper that was obstructing a path, not enough shade over picnic tables, faded carpark lines and traffic hazards when leaving the centre carpark.
"The decision makers were all very responsive and have already actioned or are planning to action many of these issues and other suggestions such as an additional toilet block and exercise equipment in the adjacent Burnie Brae Park," Dr Tuckett said.
"It was really pleasing to see how enthusiastic the citizen scientists were and the results that can be achieved.
 "With the ageing population explosion, it is vital to support healthy ageing and this approach garners the perspectives and experiences of the older people themselves to improve the built environments they live in."
The 'Our Voice' framework and 'Discovery Tool' application developed by Abby King and colleagues at Stanford University have been adopted by communities worldwide to improve individual and community health.
The study was published online in the International Journal of Environmental Research and Public Health.