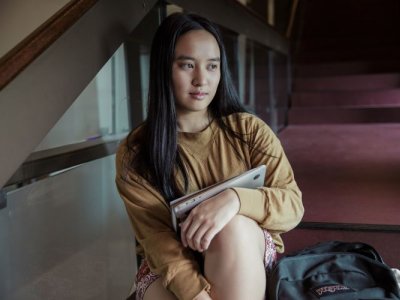 From a young age, UQ dentistry student An Tran was taught about the importance of giving back – a lesson her parents gleaned from the violence and sorrow they experienced during the Vietnam War.
Now, thanks to an Aspire Scholarship, Tran is able to pursue her career goals, while supporting her community.
The Vietnam War has been recounted by many as one of the bloodiest, protracted, and futile conflicts in recent history.
Yet, from this conflict emerged remarkable people who brought with them better insight, compassion, and hope that they sought to spread through their new communities. 
This was the case for Tran's parents, two refugees who made separate voyages to Australia to find new homes after theirs were destroyed during the war. 
After meeting in Australia, they built a modest and respectable life together in Victoria.
"My parents were some of the lucky few who made it to Australia to start a new life with their families," Tran said. 
"While I haven't experienced even a fraction of their pain, my parents always encouraged me to work hard in order to give back to the Australian community and thank them for welcoming us with open arms."
For Tran, this meant volunteering with organisations such as the Starlight Children's Foundation, the Red Cross and Australian Health and Humanitarian Aid during high school.
"The volunteering experiences I was encouraged to pursue have helped me become a better healthcare student and, I believe, a better person. They showed me how lucky I am and inspired compassion and understanding for people of all backgrounds," she said. 
After graduating high school with outstanding marks, Tran chose to pursue a career in dentistry so that she could help others. 
Read the full story on the Contact Magazine website
You can help more students aspire to great things. Visit Not If, When – the Campaign to Create Change to support a UQ scholarship program.